New Zealand ballroom dancer Brendan Cole graced the stage of Dancing with the Stars Ireland on Sunday night to perform with his leading lady, Faye Huddleston.
While he is most famous for appearing as a professional dancer on BBC's Strictly Come Dancing, Brendan now has plans for his own show, All Night Long.
The two-hour stage production will tour for 56 dates and the dancer gave us a taste of what's to come with his performance with Faye to Ava Cassidy's version of Fields of Gold.
"It's a big tour, we have 20 on-stage musicians and dancers", he said.
"It's a big night; it's my creation, it's my show, I'm very proud of it. I love being on that stage".
Wow thanks for stopping by, stunning performance from @BrendanCole & @Faye_Huddleston! #DWTSIrl pic.twitter.com/Hl9vvI6Dzd

— RTE One (@RTEOne) January 14, 2018
Speaking about performing with Faye, the pro-dancer said that a lot of work goes into making a difficult performance look effortless.
"It does take a little work to make it look effortless - hopefully we made it look effortless - a lot of training goes in to make it so seamless and beautiful. I love doing it and this is the thing - you've got to have a passion for it and if you're passionate about it...
"When you touch the hand of a young lady out on the dance floor and you feel something back and you feel that energy and that chemistry within the dance and you're putting something together...you're telling a story without words and it's really magic".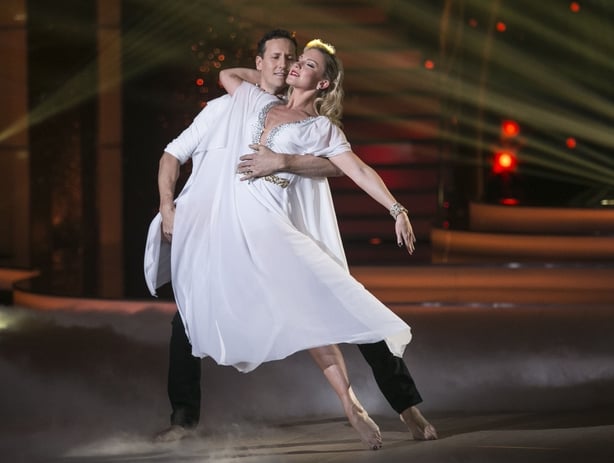 Keeping fit at 42
The Strictly pro, who is soon to be 42-years of age, says that his career in dance has kept him fit but he insists that staying in shape is easier than people think.
"You have to look after yourself but I think it's important that we [realise] that we don't all have to be fitness buffs.
"We don't have to go to the gym, we don't have to go running every day - it's about having a bit of motivation within yourself."
So what does Brendan suggest? "If I get a chance to do some sit-ups just watching a bit of telly, it takes the pain out of it because your mind is somewhere else," he insists.
When he's not spinning around the dance floor, Brendan is preparing for baby number two with his wife, Zoe.
With a five-year-old daughter at home, this veteran father says he knows exactly what to expect this time around.
"Our second child - very exciting. My daughter, who is now five, is so excited about it. Me? I know what's to come.

"I'm not less excited, I'm so excited, I'm going to be a very proud father for the second time. I can't wait to meet this little person but yeah, I kind of know what the next few years are going to bring...it's hard"
We need your consent to load this Instagram contentWe use Instagram to manage extra content that can set cookies on your device and collect data about your activity. Please review their details and accept them to load the content.Manage Preferences
During his time in Ireland, Brendan dropped by The Ray D'Arcy Show to judge a wedding dance-off but what did he think of the ladies performing on DWTS?
"It certainly wasn't equal across the board. You certainly saw people stand out and certain people not quite so much. However, week one tells a lot about your situation as a performer on this show."

Fashion tips for the boys
Finally, we asked the Strictly star for some fashion tips to share with the men of Ireland.
"I like to have a few nice pieces, I have two Tom Ford suits - one is my dinner suit - and when I put them on I feel just superb but likewise, I like a t-shirt and a smart pair of jeans," he said.
Watch our full interview with Brendan Cole in the video above.