We know that Christmas ads are all about selling brands but in recent years they have increasingly become a little part of the Christmas lead-up in themselves.
We wait all year round for the funny, whimsical and sometimes emotional ads and now, finally, one has been released.
John Lewis has struck gold in the past with Monty the Penguin, the lonely man on the moon and last year's bouncing boxer dog. Check out the Irish connection to last year's ad here.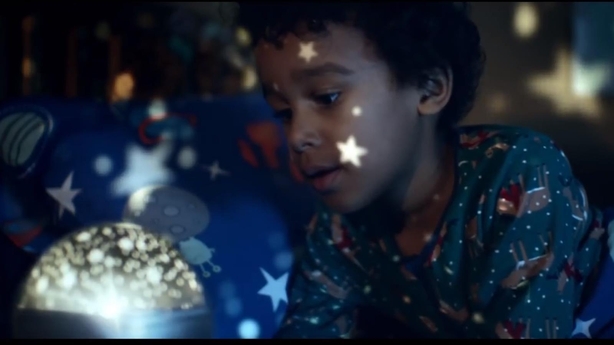 This year's ad features Moz, the monster under the bed. Unlike other monsters, Moz likes to play games, to offer piggyback rides and stay up to all hours with his young friend.
However, the late night antics take a toll on the young schoolboy and soon Moz realizes he must say goodbye to the fun-filled sleepovers and gift his friend with a nightlight so he can sleep better. Get the tissues ready!
Twitter Reactions
People have been waiting eagerly for the ad to be released ever since John Lewis tweeted the below teaser.
We'll soon be sharing our Christmas ad with you right here on Twitter, stay tuned... pic.twitter.com/YiviInhPHJ

— John Lewis (@johnlewisretail) November 9, 2017
Now, the reactions are flooding in and it looks like tears are being shed across the world.
Tom Green:
Watching the @johnlewisretail advert this morning... #MozTheMonster pic.twitter.com/oXfGZyzsOq

— Tom Green (@thisistomgreen) November 10, 2017
Liv:
every year i tell myself not to cry at the john lewis advert and every year i'm left a hot mess #MozTheMonster pic.twitter.com/zQyOpK3G3G

— Liv (@corabeau) November 10, 2017
Amanda Fennelly:
Awwww I love #MozTheMonster the @johnlewisretail ad captures the imagination of childhood, which makes me feel nostalgic and is why it gets a thumbs up from me 👍🏻 but yeah it is Monsters Inc pic.twitter.com/6anejnw8Y7

— Amanda Fennelly (@amandafennelly) November 10, 2017
Lee:
#MozTheMonster no no I'm fine.. i got something in my eye.. *after watching the john lewis advert* pic.twitter.com/3hpadLzpEm

— lee (@Lee_k100) November 10, 2017
Lucy Reynolds:
#MozTheMonster not gonna lie, that new John Lewis ad made me cry the second time I watched it

— Lucy Reynolds :-) (@Lucyis4ever) November 10, 2017
While others disagreed with the plot line, written by Academy Award-winning screenwriter Michel Gondry.
Firstplacelast:
I don't get the new John Lewis ad. It's cute but makes no sense. Why was the night light needed? The kid clearly wasn't afraid of the dark or monster.
Not really a tearjearker more a head scratcher#MozTheMonster #UnderTheBed pic.twitter.com/lrxCd0JkFb

— Firstplacelast😜 (@Firstplacelast) November 10, 2017
Stefanie Preissner:
So the John Lewis ad with #MozTheMonster - once the kid gets the nightlight ... won't he miss his friend like? Did anyone ask him if he WANTED to get rid of him? 🎄🤷🏻‍♀️💔

— Stefanie Preissner (@StefPreissner) November 10, 2017
Twisted Doodles:
Watched the #MoztheMonster advert.
I cried.
I cried because I was confused and they put emotional music on it. pic.twitter.com/hSUGr1u4u9

— TwistedDoodles (@twisteddoodles) November 10, 2017
Have a watch of some of our favourite Christmas ads from last year here.