"It's all about creating memories" says Catherine Fulvio of her life and her work. She talks with Donal O'Donoghue about family, the importance of making memories and following her gut instincts.
There's a story Catherine Fulvio tells that sums her up, in a way. It's from a short while back. Her father, Charlie, who was in hospital, had tasked her with moving sheep between fields. No bother. But it was late that evening before she remembered. Out she went in her wellies and did the deed.
Next morning, she rang her father. "Guess what dad? I moved the sheep all by myself, no dog or anything." Charlie had just one question. "Did you close the gate at the other end?" Oh no! Back out again, shut the gate, counted the sheep. There was 27, should have been 72. So she drafted in her farming sister, Eithne, and they got to work.
In the final round up, she counted 76 sheep: job done with some to spare! 'Cats' is what her dad calls her, and if you talk to the TV chef for any time you'll know why. Relentlessly effervescent and tirelessly efficient, Catherine talks like a train, works like a Trojan and laughs often. With storm Ophelia about to hit, our scheduled interview at Ballyknocken, her home and business HQ in south Wicklow, had to be cancelled.
Instead, we talk by phone, but even down the line her energy crackles. Her children, Charlotte (14) and Rowan (13), were home from school and her own itinerary was upside-down, with a presentation in Limerick about food waste (a passion of hers) postponed. "I have until 12 o'clock when the storm hits to get everything done because I fear we'll lose electricity then," she says. No fear of Catherine Fulvio losing power, however.
As well as running a B&B and cookery school and hosting regular cooking demonstrations around the country, as well as TV appearances in the UK and US, Catherine is currently filming season three of Lords and Ladles, a TV show in which three cooks (Fulvio, Derry Clarke and Paul Flynn) serve up age-old recipes in stately homes. It's due in early 2018, but first comes the second season of Tastes Like Home, in which she travels
the world to bring home tastes abroad.
"It's super exciting," she says of a show where a beef dish from Carrick-on-Suir is served up in Los Angeles, a pork recipe is on the menu in South Korea and Roscommon lamb makes it to Vancouver. Extra-culinary activities included zip-lining in Mexico ("I screamed like a baby"), leopard-petting in South Africa ("there were plenty of other people in the room he could have gone for first") and baseball in LA ("I forgot to drop the bat when I ran").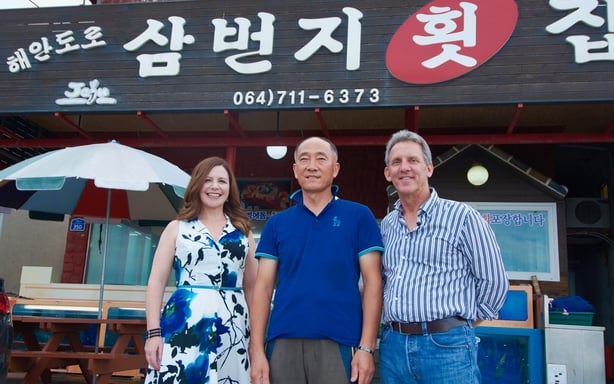 Being away from home brings up the age-old work-life see-saw. "I try hard to get the balance right," she says. "Since I work from home, I'm usually here when the children get back. I try to do the school runs as much as possible because you get all the information when you're in the car with them. They might not talk to you face-to-face but they're quite happy talking to you when they're seated behind you in the car."
Her husband, Claudio, works in London during the week but is very much hands on at weekends, taking the children to hockey and rugby matches. The couple first met in Dublin in 1995 on the night of the infamous Ireland v England football game at Lansdowne Road. With riots on the street, the pub's doors were bolted and they literally bumped into each other. It was Claudio's first day in Ireland and they immediately clicked, sharing a mutual passion for food (Claudio is from Palermo in Sicily) that fuelled their love affair.
It's easy to see why. Fulvio comes even more alive when talking food, like when she is describing the famous Sicilian dish pasta alla Norma. "Have you had it with the diced aubergine or with the sliced aubergine?" she asks. "It's better with the sliced aubergine and loads of Parmesan of course." And so on it goes, from food to
board games to whatever you're having yourself. Having been reared on Miss Marple and Hercule Poirot mysteries, she is a huge fan of the board game Cluedo. Would she make a good detective?
"At the rate I can find missing sheep, probably yes," she laughs. But the family card game of the moment is Uno. "You just have to get it," she insists. "It's so addictive. We also do a light bit of gambling with Pontoon. That's our time with Dad who's 83. We have a jar of coins and a card shuffling machine."
It's surprising to learn that the young Catherine lacked confidence. In some ways, she says, she still does. "I can talk until the cows come home but maybe that's how I cover up for my lack of confidence," she says. "I suppose I got more confident as the years went by." The second eldest of four, she says living away from home during her college years (Irish and German at UCD) was the making of her.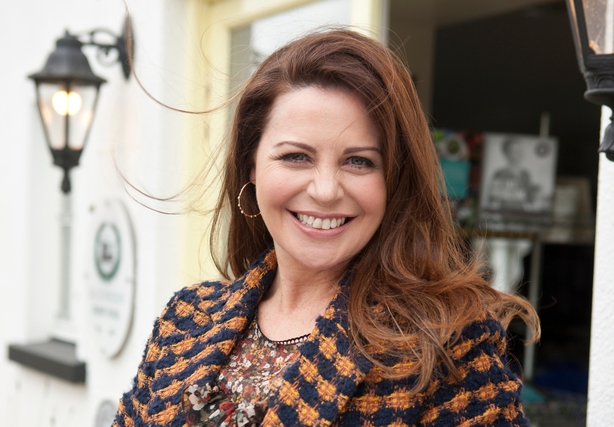 During a gap year working in Bavaria, some of the sisters in the local religious order figured she'd make a good nun. "'Fraulein Catherine, we can see how dedicated you are to the church', said one elderly nun, 'so here is an application form to join us.'" She never had the heart to tell them that most of the time in the
church she was having a little snooze: but the nuns kept in touch, even sending her gifts on her wedding day.
She tries to live by certain tenets: in her book 'kindness' is underrated, discipline is paramount and good memories are priceless. "I'm trying to create real memories for my children that aren't Snapchat or Instagram, memories like the flavours and tastes of food and unforgettable moments in time." Her own childhood is filled with such recollections, from working on the family farm, to baking with her mother and the special times
of Christmas.
"I can actually picture us all now sitting at the Christmas dinner table," she says. "I can see my mother laughing and I can taste the turkey stuffing and feel again the joy of that day." Catherine's mother, Mary, was just 56 when she died in 1998 from cancer, a loss that still hurts.
"She was a Trojan worker and had a vision for the business," she says. "She was always looking for the next opportunity and I hope I learned that from her. I remember back in the '80s, these Germans came to stay in the guest house and they were in traditional dress with lederhosen and all and they wanted to go walking. And my mother thought 'People want to go walking on holidays?' But she subsequently started hill-walking holidays. She left us too early, that's for sure and we miss her greatly."
Catherine has had few negative experiences on social media, apart from "the odd bit of trolling and I just block them" and she uses Twitter for news and Facebook to stay in contact with people. "I don't put everything out there," she says, admitting that the first thing people google about her is her age and then details on her husband is her age and then details on her husband.
"You have to have your family life private. So I'm not on social media all the time and I don't put my personal life on it. To be honest, I don't think people would be interested in it. I live a pretty boring life. I like hiking in the
Wicklow hills and working in my garden and cooking and experimenting with recipes. It's the simple life really. My children are an age too that they don't want their photos on social media, that's the truth of it."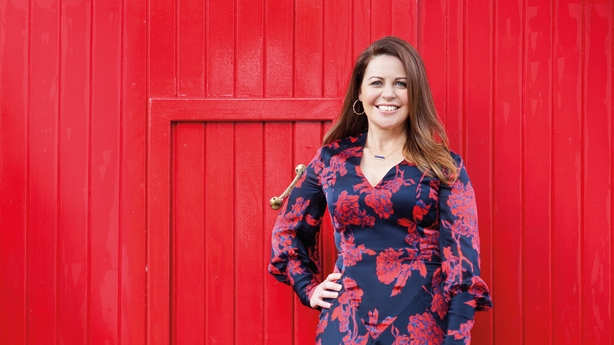 Discipline is the trait she most admires in others, but admits she's not greatly disciplined herself (which is hard to believe). "I wish I was more disciplined, especially in relation to exercise and getting up earlier," she says.
"I suppose I enjoy what I do and try to make healthy decisions in what I eat. If you enjoy what you do, it makes all the difference. I get things done but my to-do list is very long, so not everything gets done."
Despite that, in the past year she has overseen the building of a barn for self-catering, done extensive work on her vegetable gardens and installed a poly-tunnel as well. As ever, the philosophy of 'Farm to Table' threads through all her work, as well as her TV shows, her cookery columns and her books (her sixth and most recent title was 2016's A Taste of Home).
"I probably inherited my mother's traits for understanding people and my gut instincts are very strong," she says, nominating the cookery school, which she built in 2003 while pregnant with Rowan, as her best-ever business decision. Charlotte and Rowan are already helping out at Ballyknocken House. "I think it's important
that they know the value of work," she says.
"And they both have a strong loyalty to Ballyknocken." For Catherine Fulvio, this sense of legacy and loyalty is crucial. Her family have lived in the house for three generations since the 1920s and it would take more than an ex-hurricane to blow that away. But you have to be prepared. So after a chirrupy farewell she's gone, off to face down Ophelia and keep the show on the road.