A police officer in the US has been honoured for rescuing a woman from a burning car and the whole rescue was recorded on video.
Detective Chris Godby, 31, originally from the UK, was named one of the officers of the month with Grand Prairie Police in Texas, along with two colleagues who also helped save the unconscious woman.
Action filmed on Godby's bodycam shows the officers pulling the driver through the window to get her away from the flames.
Godby, an Everton fan originally from Warrington and who moved to Texas in 2007, will receive "the lifesaving bar for courageousness", according to the police force's Facebook page.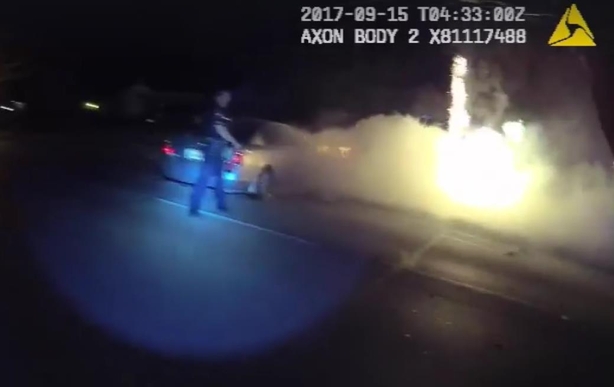 The accident happened on September 14 after the woman's car collided with a telephone pole and struck a gas line, prompting the fire.
"I didn't really have any time to react to it because I get out of my car and I can smell gas," Godby told the Press Association, recalling the incident.
"At the time I didn't realise that she had hit a gas main.
"I'm not sure if you can tell from the video but the vehicle kind of explodes within 10 seconds of pulling her out."
As Godby and a colleague pulled the woman from the car, another colleague was working to put out the blaze until others from Grand Prairie Police arrived.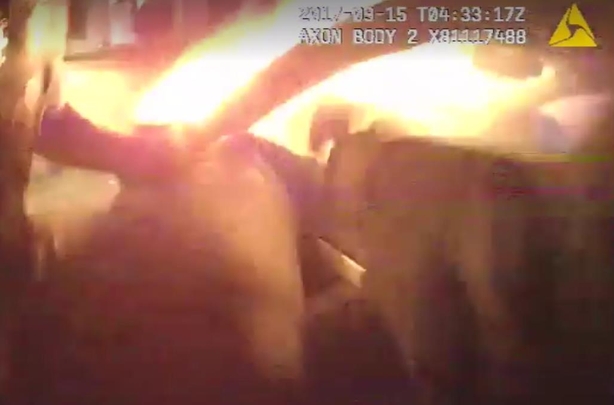 The woman was taken to the hospital and has since recovered.
"People watch police videos and they say what they would have done differently," said Godby. "The reality is you have a second to make a decision on what you're going to do.
"It's always an honour to get any kind of award, but I feel like there's police officers across the United States and across the world that are doing things like this on a daily basis, and we don't do these things for the awards.
"We all took the same pledge to protect and serve, and if I was put in that situation again I'd do the exact same thing, knowing that the car could probably explode. It's nice to be recognised."