This week's RTÉ Guide is a special fundraiser Pink Issue for Breast Cancer Ireland. The Guide will donate 20c of every copy sold to the charity.
Nearly five years after being diagnosed with breast cancer, life is on the up and up for RTÉ reporter Teresa Mannion, from viral weather reports to dancing with the stars. Donal O'Donoghue meets her.
"I don't obsess about cancer," says Mannion now.

"Of course, I did go through some low points during my treatment and sometimes I'd get this jolt thinking 'Am I more vulnerable to having cancer again?' In those moments, I wonder how did it happen to me, how did that disease come into my body?' But in those times you have to force yourself to switch those thoughts off.
"My oncologist told me once, "There's nothing that Teresa Mannion did to get cancer!' because you do worry that you did something – your lifestyle, a bad diet or whatever – to bring this on.
"But I didn't do anything. It's just simply that one in three people get cancer and I was one of them."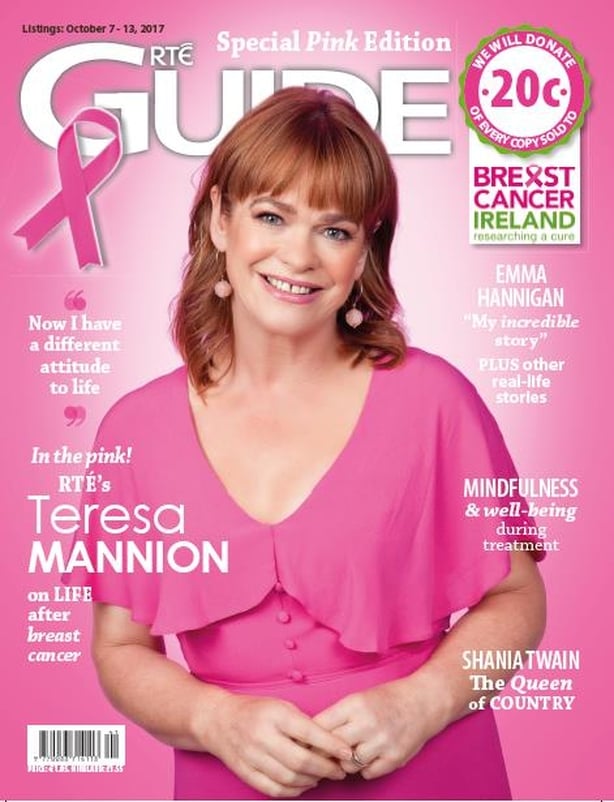 Elsewhere in this week's RTÉ Guide:
Real-life stories Andrea Byrne meets three women in their 30's having cancer treatment
Emma Hannigan The author talks about battling the disease for the tenth time
Staying strong Coping with a cancer diagnosis
Marathon Man Darragh McManus chats to a man who has run multiple marathons
Diet & cancer risk The importance of nutrition. Oncologist Arnie Hall talks about advances in modern cancer treatment
Elaine Crowley Janice Butler catches up with the TV3 broadcaster and BCI ambassador
Shania Twain Meet the Queen of Country