At 56, The Late Late Show is enjoying a comfortable middle age, while Ryan Tubridy, at 44, is looking forward to stirring things up in his ninth season.
In this week's RTÉ Guide, Ryan discusses his love for broadcasting and how confidence can change with age.
"I'd say I like it [broadcasting] more because I'm confident in my skin now. I've been thinking about this quite a lot recently. In your 20s you're having fun.

"The next decade, you're fighting to get somewhere: relationships, jobs, houses. It's a scramble, it's tough. By your 40s, you tend to be more reflective, more comfortable…and confident but not cocky, which I was before," said Ryan.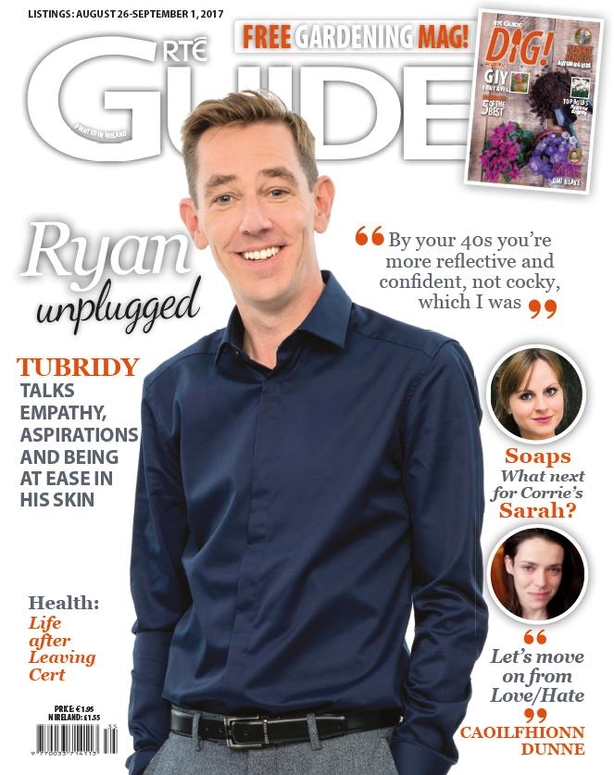 Elsewhere in this week's RTÉ Guide:
Caoilfhionn Dunne Murderous Love/Hate character, but the stage actor's CV is filled with luminous performances. She spoke to Michael Doherty during a rehearsal break at the Abbey's Katie Roche
Celtic Woman Two of the quartet tell Andrea Byrne they're nervous but excited about their homecoming show
22 Summer fiction The final story is Vagrants by Barbara Leahy, the winner of the 2017 RTÉ Guide/ Penguin Short Story Competition
Corrie's Tina O'Brien Sarah Platt's had a tough time in recent years and it doesn't look like things are getting any better.