From 6am this morning (Monday, August 21), applicants have been checking online to see if they have received an offer by visiting cao.ie and logging in to their account using the My Application facility. You will need your CAO Application No, Date of Birth and Account Password on hand to login.
Candidates must reply to first offers by 5.15pm on Monday August 28.
The RTÉ CAO page has all information on all courses including average points throughout the years, final point counts and trends readily online. You can search by course code, name, and institute to get the required information. Visit the database here.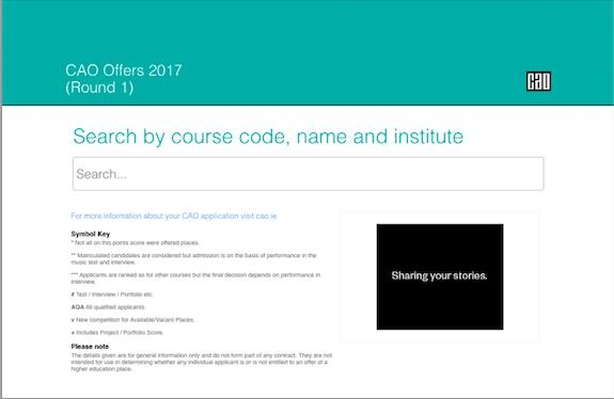 The second round of offers will be issued on the 31st of August to fill any remaining vacancies for courses. Candidates must reply to the second round offers by 6th of September. There is no guarantee, however, that courses will offer any places after first round offers.
Rounds of offers will continue up until October to fill any remaining vacancies on courses which may arise.
Remember
If you are disappointed in missing your college place, it is not the end of the world. Take stock of what options are available. With every door closing, another will open.
From personal experience, the CAO and its decisions are not set in stone. I started my teacher training degree 8 years ago. And now I'm working as a journalist. The end point is that a three digit number does not, and will not, define you.
Best of luck to all candidates over the coming weeks.
For more articles on Exam time visit RTÉ LifeStyle.