TV and radio presenter Bláthnaid Treacy is packing her wellies and getting set to go to report from this year's Electric Picnic. But before she does, she chats to Janice Butler about her most successful year yet, being happy in love and the gender pay gap debate.
You would need to get up early and drink a lot of coffee to keep up with Bláthnaid Treacy and I mean that in the best way possible. Dividing her time between RTÉ 2fm, RTÉ TV, TG4, festival reports and social outings, she's pretty non-stop. 
Bursting with enviable energy at an early morning photo shoot in a Dublin hotel penthouse – "This is so cool", she says. gleefully surveying the view. The crack-of-dawn start time doesn't seem to faze her at all. At 29, the Bray native has packed quite a bit into her career so far, having first come to our attention as a child star in Glenroe as Denise Byrne – daughter of Biddy and Miley – from the age of three months to 13.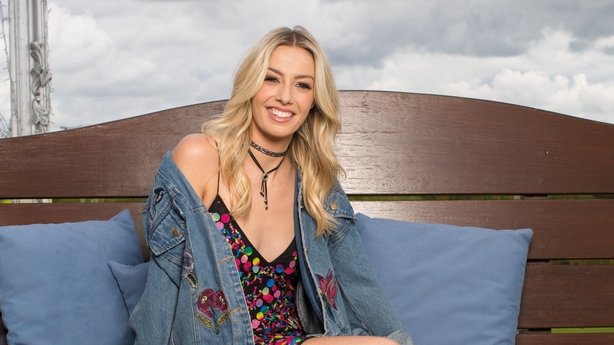 It's been a very good year for her professionally. At the end of last year, she made the decision to move on from TwoTube, the young people's TV show she presented with Stephen Byrne for four years; her profile was given a significant boost when she landed the Can't Stop Dancing gig, the spin-off show of the very popular Dancing with the Stars.
This was her first move to the mothership that is RTÉ One, and she admits it was her biggest professional challenge to date. "I was so impressed with the results of the show because I was working with a whole new team. It was a real case of sink or swim, so I started paddling as fast as I could," she laughs.
She recalls the tough audition process, revealing that she originally tried for the job of presenting the main show, which ultimately went to Amanda Byram and Nicky Byrne.
"This time last year all the news was coming out about Dancing with the Stars and I was like 'Right, how do I get involved?' because it's such a huge show and I knew it was going to be great. So I started emailing and
knocking on doors, got my show reel together and sent it off."
"I wanted to keep it as quiet as possible, I would never tell people when I'm going for something in case I don't get it. I knew of a few other presenters who were having their screen test on the same day as me, so a lot of people went for it."
She admits that the spin-off show, in which the week's performances and judges' decisions on Dancing with the Stars are picked over, was really a better fit for her. "I got the call to say they had picked the main presenters, Nicky and Amanda, but that they wanted me for the spin-off, which to be honest, is perfect for me and my personality. I needed to have a few more air miles for the main show."
Having worked on TwoTube for so long, she found herself out of her comfort zone, working with a new team and a different format. "You can't be precious. You have to take on board criticism and people's guidance. It's a very different format to what I was used to, so I had to adapt. It was definitely a huge learning curve, but
also a huge career boost, for whoever gets involved with it," she adds.
Bláthnaid has already been confirmed for the next season of Can't Stop Dancing. She reckons that after the success of season one, which saw Kerry footballer Aidan O'Mahony take home the crown, celebrities will be lining up to be involved.
"We won't know who is taking part until probably Christmas but for whoever it is, it really raises their profile. Just look at Aoibhín Garrihy".
TV presenters who start in youth TV can find it difficult to make the transition to the mainstream but so far,
Bláthnaid is bucking the trend. She credits her time for providing the best training she could have had in the business. She's still sad about RTÉ's controversial decision to outsource their young people's television to
independent production companies.
"Working Young People's was the best experience anyone could have and it makes me so sad that it isn't there any more. I knew I wasn't coming back in the New Year. Stephen [Byrne] and I had decided we were moving on from the show, but we were excited to see new people coming in and were giving them loads of advice. It's from TwoTube that I got all my other work so I'm forever thankful to it."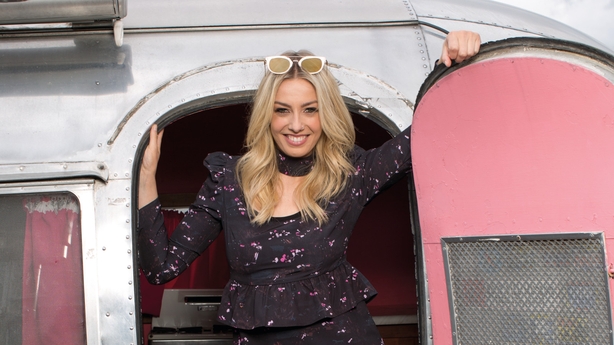 Another issue she's happy to discuss is the current controversy over the gender pay gap at RTÉ and the BBC. Following the revelations about pay disparity at the BBC, RTÉ News anchor Sharon Ní Bheoláin gave the debate an Irish dimension when she told newspapers that her salary was considerably less than her co-presenter's, Bryan Dobson. Bláthnaid reveals she has experienced pay discrimination in the past.
"I've worked in jobs where I've been paid less than my male counterparts. It is really frustrating and it's good that the conversation is happening."
"No one likes confrontation and it's hard to find out how much someone else is getting paid. I think it's great that people are talking about it, but men need to stick up for their female colleagues too so that everyone is speaking up and it's not just women's voices. We need to be on a level playing field."
Someone who always has her back, she says, is her close friend Stephen Byrne. She admits that in an industry which she describes as often "weird", it's nice to have someone you know you can rely on. "We're like brother and sister – we get withdrawal symptoms if we don't see each other," she laughs.
"Sometimes you need advice so it's great when one of your best friends understands exactly what you're going through. We have each other's back and it's so nice to have someone like that." 
She says that TV has become a very different industry since she started on the TG4 travel show, Ó Tholg go
Tolg, years ago. In a media landscape full of 'influencers', Bláthnaid admits the constant posting of updates isn't for her. "There's pressure on people to have a good social media game, too much emphasis I think. It's amazing what people can do now but I'd rather work with a team. I would also rather chat to my friends when I see them, so I put the phone away."
What you do find on her Instagram account is lots and lots of festival images. No surprise then that she is
looking forward to co-presenting RTÉ 2's coverage of Electric Picnic at the start of September. In the past, she's been the roving reporter at the festival, but now she's hosting RTÉ's pop-up studio with Eoghan McDermott. "Festivals are my jam," she says enthusiastically, "and this time, I get to stay inside the studio, out of the wind and rain!
The other mainstays of her social media are her exotic holiday pics with boyfriend of six years, Charlie,
her companion to destinations like Thailand, Vietnam and Cambodia. They haven't planned anywhere yet for
this year and no, there are no wedding bells on the cards. I can tell by her face it's a question she's been asked more than once.
"Everything's going great – we're very happy together. I've no plans for marriage yet – I still feel 17, so if it ain't broke, I say..." 
Another thing we won't see her doing anytime soon is a return to her acting roots. "God no," she laughs, never. I'm very happy with how things are at the moment."