Who are you and what do you do?
My name is Danielle Lynch. I am a pharmacy technician from Co. Donegal and I write a beauty, makeup & lifestyle blog called Stardustbelle .
Why do you do what you do?
I started working in retail when I was studying at university. I have a passion for working with the public and working in a pharmacy dispensary allows me not just to serve, but to help people feel better. I set up my blog in December 2010 but I kept it private because I was too worried about what people would think.
After meeting a few inspirational people last year, it lit a fire in me and with much encouragement from my husband, I went for it! I haven't looked back since. I read a quote recently which has stuck with me:
"You would worry less about what other people think if you realised how seldom they do."
I have always loved writing, and I'm a bit of a perfectionist when it comes to it, so having my blog allows me to express my thoughts and opinions on a platform, write about whatever I want and be me; I love it!
Three people you respect?
Marissa Carter - CEO & founder of Cocoa Brown. Marissa's ambition and determination is inspiring. I've watched her ever-evolving brand grow from day one into a global top-seller, it's incredible.
Suzanne Jackson aka SoSueMe - Ireland's top blogger and a lovely lady too! Suzanne is one hard-working and incredibly driven lady; I admire those qualities.
Caroline McMenamin aka The Red Dutchess - Caroline is a fashion, beauty, lifestyle blogger and vlogger from the Northwest too. Being an Integrative Counsellor specialising in CBT, Caroline is a big advocate for mental health and is very open and honest about her own struggles with OCD.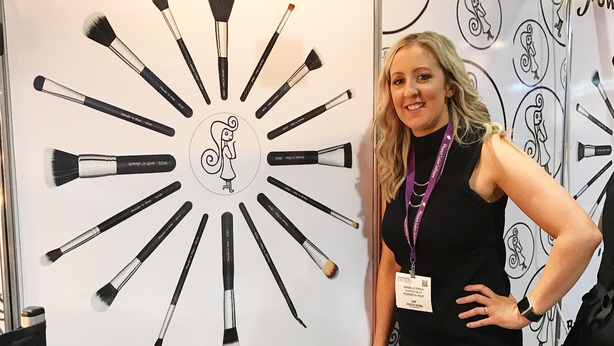 What excites you right now and why?
I have just recently finished studying (again!) and have become a qualified pharmacy technician; I'm so excited to have free time again!
It will soon be a year since I launched my blog and these past few months have been mind-blowing; meeting new people and making new friends, exciting opportunities coming my way and watching my readership and followers grow daily. I have set myself several goals for 2017 that excite me!
Finest moment to date?
There have been so many pinch-me moments in my blogging journey:
Cocoa Brown Bloggers Breakfast in Primark HQ with some of Ireland's top bloggers and influencers was my first event,
Being at the Professional Beauty Show in the RDS as a VIP Blogger,
Attending the recent Image Business of Beauty Awards was amazing,
Everytime someone tells me how much they love my blog & social media.
What are your top 3 must-have beauty products?
Pestle & Mortat Pure Hyaluronic Serum
Catrice Glam & Doll False Lashes Mascara
Flormar CC Cream in CC02
Any beauty hacks to live by?
Use a setting spray; it makes such a difference to the longevity of your makeup!
What are your top beauty tips for Irish women this summer?
It's so important to wear SPF on our pale Irish skin! I tend to use a foundation that contains SPF throughout the year.
When I'm on holidays, I use a BB suncare cream from Boots Soltan range, which has SPF 50+. This is perfect in the heat because it's light and non-greasy with a hint of colour.
Cocoa Brown has an Instant Matte Bronzing Gel in their range and it is a hero tanning product for me! The colour is ideal for my skin tone and it applies so easy.
This product is perfect for those last minute plans over the summer when you only have time to lash on a quick layer of tan!
What are your fav beauty looks for festivals this summer?
The Irish flew the flag high for beauty looks at music festival Coachella last month! Suzanne Jackson, Erika Fox (Rerto Flame) and Aoife Walsh all looked incredible set the bar for trends I think we will see a lot at festivals throughout the summer; chokers, metallic face and body tattoos, face gems, cosmetic glitters and colourful makeup! I have a soft spot for sparkle so I love love love these looks!
What's the master plan/dream?
With my blog, I have so many content ideas bursting out of my head! I am excited to explore other interesting topics and expand my content.
A dream of mine would be to create an entity that would make an impact on the beauty scene.