Get your socks off! Fashion blogger Ciara O'Doherty, Foot Health Professional Janette Pegley-Reed and Olympic Diver Oliver Dingley share their fashionable foot tips for summer but before we get into that...
Fun Fact: Jamie Dornan topped the poll as the celebrity Irish females would most like to play footsie with, ahead of both Tom Hardy and Ryan Gosling!
Irish males also stayed true to their Irish crush by voting for Amy Huberman followed closely by Katy Perry and Emma Stone!
A survey released by Mycosan Fungal Nail's shows that Irish women find men wearing socks and sandal to be the absolute worst fashion faux pas! However the poor lads might be hiding some nasty nails under there!
To help the Irish public out, fashion blogger Ciara O'Doherty, foot health professional Janette Pegley-Reed and Olympic Diver Oliver Dingley share their most fashionable foot tips for summer.
Ciara O'Doherty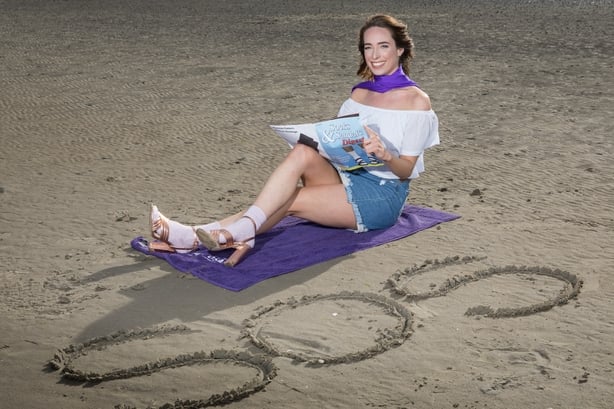 Q1. How and why did you get involved in the 'Get Your Socks Off' campaign?
I was reached out to by the brand about working together on the campaign, and it sounded like a fun and different project for me, so I jumped on board!
Q2. The campaign looks at Ireland's biggest turn off - what are yours?
Fashionably-speaking, I think when someone looks uncomfortable in their outfit, it always shows. Whether they're wearing a shirt too tight, or heels too high, if you're not comfortable in what you're wearing, I suggest giving it a miss!
Q3. The best shoes for summer?
Again, I think comfort is absolutely key to looking good. Now I'm not suggesting spending your summer in crocs and Ugg boots (God forbid!) but try to opt for footwear that's sensible as well as stylish.
For formal occasions, I love a cute strappy sandal with a thicker heel, they can be surprisingly comfy despite the heel-height, which is great for weddings! For more casual looks I love a nice canvas espadrille or a crisp pair of white sneakers, they go with just about everything!
Q4. What's hot and what's not for Summer 2017?
Some Spring/Summer trends I'm loving the most right now are monochromatic gingham prints, deconstructed shirts, and romantic ruffles a-plenty! All three are easy to work into your existing wardrobe, and incredibly fun to try out.
Q5. When did you first fall in love with fashion?
For as long as I can remember, I've loved expressing myself with my clothing. Back when I was a teenage tomboy I used to customise all my own clothes (much to my mother's despair!) and even as far back as preschool I was picking my own outfits for birthdays and special occasions.
It was when I started my fashion blog back in 2010 however, that it really dawned on me that this passion was much more than just a hobby, and now it's my career!
Oliver Dingley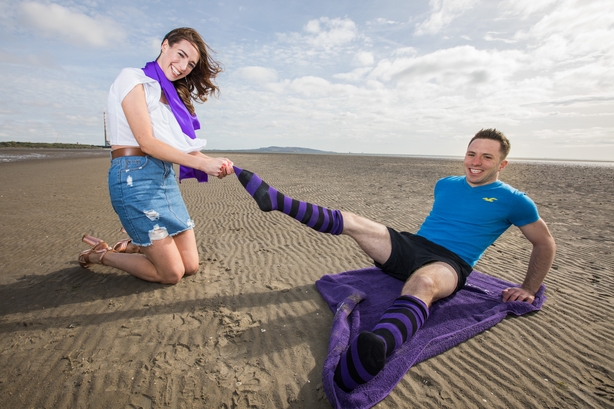 Q1. How and why did you get involved in the 'Get Your Socks Off' campaign?
I got involved because having trained and competed in pools across the globe and picked up fungal nail infections over the years I know how contagious they are! They are an unfortunate side-effect of spending so much time in the pool.

Q2. As an athlete, how do you keep your feet happy and healthy?
As a professional diver, it's really important for me to pay close attention to my foot health. Apart from not wanting to spread the infections to others I have been very self-conscious of my feet in the past and I have had to bandage them up to hid how they looked when I was competing.
Q3. Can you give us some fitness tips to whip us into shape this summer?
Commit to thirty minutes of high-intensity workouts three times a week. This could involve a circuit, a run where you change the tempo up and down through it or a swim where ever lap you try to get a little quicker.
On the other days try to find ways to move more to build your aerobic base like getting off the bus a stop further from work. Also, why not give Bikram yoga (yoga in a heated room) a try, I love it, I find it allows my body to stretch, detoxify and it relieves stress
Janette Pegley-Reed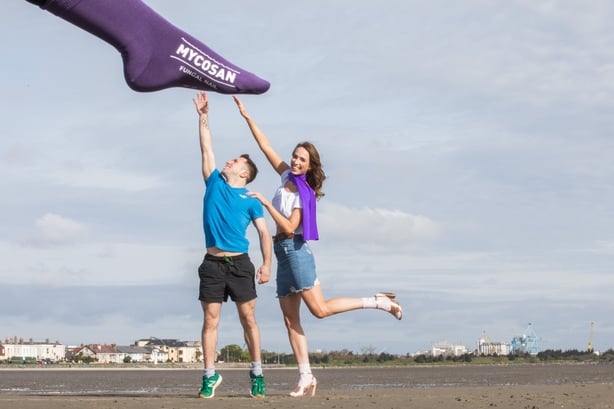 Q1. How and why did you get involved in the 'Get Your Socks Off' campaign?
Getting involved in the 'Get Your Socks Off' campaign was easy for me as good foot health is something I am passionate about.
Q2. How can we keep our feet happy and healthy this summer?
There are lots of simple ways you can keep your feet happy and healthy this summer including:
Trim your toenails: Keep them short and cut them straight across - file them to prevent spikes that can cause ingrown toenails.
Go Barefoot: Going barefoot in warm and sweaty environments is a great way to let your feet breathe. Alternatively wear open toe sandals.
Use Sunscreen: Ensure you apply sunscreen to your feet - tops and soles - they are as vulnerable to sunburn as the rest of your body.
Get rid of the callus: Remove hard skin from your heels and the sole of your feet by using a foot file. Use a foot cream to help soften them up.
Q3. Top tips to prevent fungal nail infections?
Keep your feet clean and dry: Thoroughly clean and scrub your feet and ensure they are completely dry as fungal organisms thrive in warm, damp environments.
Protect your Feet: Fungal infections such as Athletes foot (which can lead to fungal nail infections) love environments such as communal showers, swimming pools and changing rooms so avoid going barefoot in these environments.
Avoid sharing footwear - no matter how tempting your best friends shoes are - avoid borrowing them so you don't pick up any extras!
Be sure that you wear cotton socks and shoes from natural materials to allow your feet to breathe!