Skin cancer is the most common form of cancer in Ireland and can appear in different forms, sizes and colour. Dr. Naomi Mackle outlines the warning signs to look out for when checking moles regularly.
Most people have between 5-20 moles on their body. These are small skin lesions of a collection of cells, which produce pigment on the skin, and they should be checked every few months for changes.
Therefore, it is extremely important to have regular 'mole mapping', which catalogues and maps the moles present on your body. The treatment aims to reduce the risk of skin cancer, by identifying irregular moles at an early stage.
The warning signs
Dr Naomi Mackle, Medical Director at The Adare Clinic in Dublin, outlines some warning features to look out for. If any of these traits are present, it is recommended to seek medical advice:
Bleeding, itching, red, inflamed or crusty moles
The appearance of a new mole that looks irregular or unusual
Patches of skin that are flaky, itchy, tender, oozing, bleeding, or red, that do not have an obvious cause, such as eczema
Moles that change in size and get bigger
Moles with uneven colouring
Moles with an uneven edge
A sore lump or blemish on your skin that does not have an obvious cause and lasts for more than a few weeks
Treatment and process
The Adare Clinic uses the latest software and technology, Molemax HD dermoscopy, in its clinics in Dublin and Limerick.The device provides a full circle service, from skin mapping to detection and from monitoring to removal, where necessary.
Using an industrial camera, Molemax HD dermoscopy counts the moles present and rates them.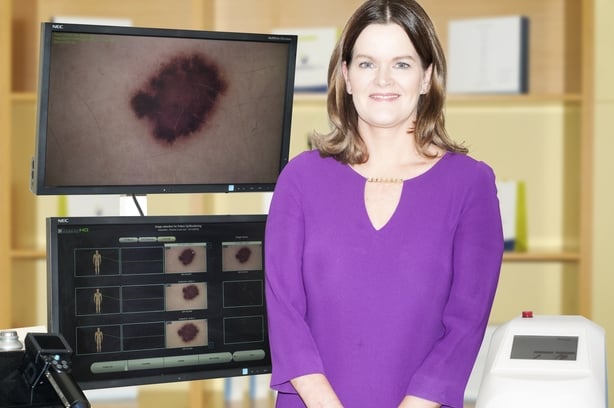 If the doctor is concerned or recommends further analysis of a mole, a biopsy is required, and The Adare Clinic will manage this process sending the biopsy to the lab for a histology.
When visiting The Adare Clinic for a mapping treatment, a full suite of care is provided from the initial mapping and diagnosis to a biopsy, histology, and referral, if required.
To find out more about mole mapping at The Adare Clinic and view the full range of services on offer, visit their website here.