Dancing with the Stars host, TV presenter and fitness fanatic Amanda Byram talks to the RTÉ Guide's Donal O'Donoghue about love, ambition, and family.

"I always wanted to be an actress," says Amanda Byram. "When I was 12, I had this diary and in it I wrote that I wanted to become an actress, move to America and marry the Karate Kid.

"Back then, I imagined the Hollywood sign and this big highway leading up to it. So one day, many years later, I was on the 405 and heading to Paramount Studios.

"I looked up and there was the Hollywood sign, exactly as I had seen it in my dream when I was 12 years-old. In that moment, I thought, this is it."
We meet far from Hollywood, in a luxury rustic cottage, complete with Aga, ornate sink, and a dresser bursting with bottles of alcohol. The sink's tap is purely ornamental but the alcohol looks very real (I can't check as the door is locked). Some five minutes after I arrive, and have stopped twiddling with the booze door, a woman bustles in hefting a suitcase the size of a small horse. "Am I in the right place?" she asks.
Expecting the co-host of a shiny, happy TV show, I dispatch the interloper. And then think, 'Hang on a minute, wasn't that Amanda Byram?" Indeed it was: star of catwalk, veteran of prime-time TV show that made dad-dancing look good, Dancing With the Stars. "I feel like I have a hangover but I didn't have anything to drink," says Amanda, unperturbed by my failure to recognise her. "But I'm always like this the morning after every show. It's such a rush, but I love it."
With that the 43-year-old Dublin flops – well gracefully reclines – into her seat, a person who seems a lot warmer than the glamour-puss from TV. Still though, it's probably best to get on her good side so I put on
the kettle (there is a tap that works).
Amanda produces a Japanese green tea-bag and when the water boils, I play mammy. "Fill her up," says AB and I do, the green leaves swirling as I pour and Amanda does a girl-guide thing, saying, "keep her lit, keep her lit". I keep pouring. Earlier, comic performer Katherine Lynch had been talking on the radio about her experience on DWTS and how she felt after losing out in the dance-off. "How did she sound?" asks Amanda.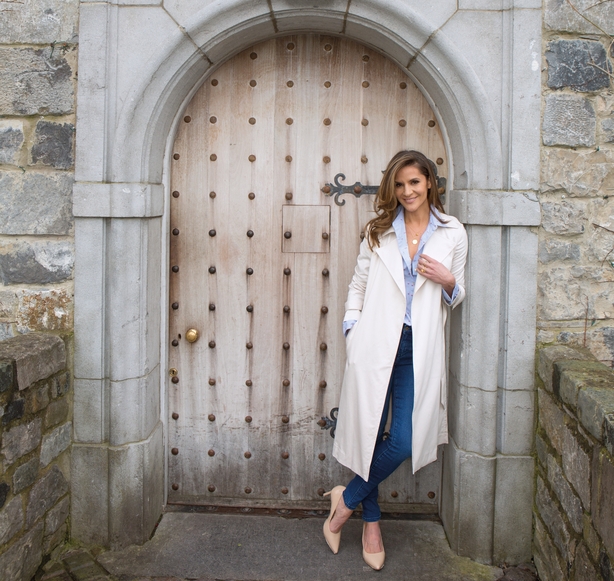 I say the show's latest casualty sounded quite happy and seemed to have enjoyed their time in the DWTS limelight. Byram nods; she is also enjoying her sort of homecoming (the Dubliner lives in London with her husband, Julian Okines), although, in the beginning, she had reservations about co-hosting the dance extravaganza. "It was a gamble for everybody," she says. "It's a format that was already well-loved around the world so we couldn't afford to mess it up."
So far, so swimmingly, though. Byram's parents, Denny and Betty, attend all the shows. Is that Denny as in Denis? "No it's Denny as in Darius," says Amanda.
"When my dad first came to Ireland (from Iran), everyone was like 'We'll call you Denny' and it stuck. My mum loved to watch Strictly Come Dancing and now it's all about DWTS."

She says that she was approached to participate in Strictly. "I didn't turn it down, it was just that I was doing Total Wipeout at the time," she says. In any case, she reckons that she might not have been the world's greatest dancer. "I've tried to dance," she says. "I took a few tango dance lessons when I was in Argentina [filming Wipeout] and it was really hard."
Byram grew up in the Dublin suburb of Castleknock, with one older sibling, Natasha, and a sense of knowing what she wanted. "I was always independent," she says. "When I was a kid I always wanted to do my own thing,

"Under the stairs at home, there was this cubbyhole which I covered with a curtain and in there I put all my toys and books and I would spend hours there. That was my home.
I always wanted independence, to do my own thing. As soon as I got in a car I wanted to drive.
"I went to San Francisco when I was 19 and I stayed for a year. As soon as I could, I moved out of home
and bought my own home." The former model worked briefly in Ireland (Ireland AM) before moving to the UK (The Big Breakfast on Channel 4; Entertainment Tonight on Sky 1) and then the US (Paradise Hotel, The Swan, Grand Slam), before returning to the UK with game-show, Total Wipeout. Today, Byram has agents in the US, the UK, Australia and Ireland, as well as properties in London, Los Angeles and Dublin.
No flies on our Amanda, but then she will tell you that she has been a go-getter since the beginning. "My mum now says that I did well because I had to fight my way through and that I always had this great drive and ambition," she says. She doesn't engage with Twitter, but isn't she tempted to check out the comments after a show? "I refuse to check it the day afterwards," she says.
"I say that I'm a tough cookie but I also let things affect me more than I should. That's why social media
drives me nuts. Even when I was on my honeymoon last year, people were saying nasty things like 'Why are
you posting pictures of yourself on a beach on your honeymoon?' And I'm like, 'Stop being so negative!'
"I learned how to be strong through modelling and getting turned down for not being tall enough or pretty enough or whatever. That takes its toll on a teenager over a few years.
"I had body issues growing up but I turned that around," she says. "I tried every diet under the sun. I didn't need to change my body shape, but that was not the point. It was the mental side of it."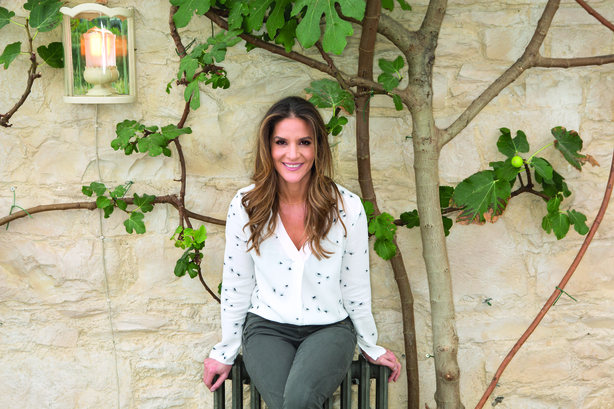 "Maybe it's because I have this perfectionist thing or maybe a psychologist might say it was sibling rivalry. Now I look back at old photographs and wonder what my problem was.

"I got so sick of dieting and worrying about my weight, I wrote a blog called 'My Journey to Health'. The way I thought all the way through my teens and 20s is the way many women think through their whole lives."
After a rollercoaster love life, Byram met TV producer Julian Okines in 2015. How did she know he was the one? "You don't really know he's the one from that very first moment, but I certainly thought he was handsome. I had been single for a very long time. I had cancelled a wedding when I was 38 (with rugby
player Craig McMullen). It was a month before the wedding which was to be in France with everything ready to go, but my parents said to me, 'You're not happy', so I walked away and that was so tough.
"The day I met Julian was the day it all made sense," she says. "I had just turned 40 and Julian ticked every box. He also calms me down when I get wound up and stressed."
"What stresses me? I like everything to be right. I'm a bit of a control freak in that way. Maybe that's too negative a word. I'm a bit of a perfectionist with my work and when things wind me up it's all to do with work. That's probably why I was hesitant about DWTS in the first place. I didn't want to come back to Ireland after 16 years and not do a good job."
Byram and Okines got engaged in December 2015 and married four months later in April: first in London, then in the Maldives and the wedding featured in Hello! magazine. In interviews since, she has spoken about wanting to have a family. Now she says that it is in the lap of the gods.

"When people ask that question, you can only say that you can only try," she says. "Having a family is very important to us, but if it's not meant to be, it's not meant to be. We have a lot of love in our lives and people to love."

Is she reconciled to not having a family if that is the case? "In a way, I don't like talking about it because it invariably becomes the headline which is sensationalised."
Byram made it to Hollywood but never as an actress. "Maybe if I applied myself more," she says wistfully. But then there were other fish to fry. Her website lists her as TV host, health expert and travel writer and you could add fashion entrepreneur too, as there is a range of active wear in the pipeline.

"You need to start building an empire and Rome wasn't built in a day," she says. She's also in training for the Women's Mini Marathon (she's an ambassador but admits she has never run a 10K). Once DWTS wraps, she and her husband are going to a health clinic in Austria, followed by a body camp in Ibiza. "I've got to be mindful about keeping myself in tick," she says. "It has taken me 43 years to get here."