Over the course of Daffodil Day, 150 people will receive a cancer diagnosis in Ireland, and over 40,000 people will hear the words 'you have cancer' by the end of 2017.
This year is the 30th year of Daffodil Day. Since 1988, Irish Cancer Society volunteers and supporters have been instrumental in funding vital care and support for thousands of cancer patients and their families.
This support has allowed for major investments in cancer research which is impacting on survivorship in Ireland, with six out of ten cancer patients surviving cancer now, compared to four out of ten when Daffodil Day first began.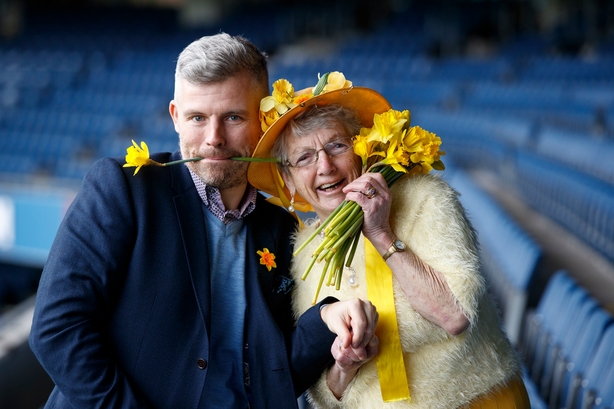 Speaking ahead of Daffodil Day, Taoiseach Enda Kenny said he was delighted to support the fundraising event.
"The Irish Cancer Society has been instrumental in the fight against cancer and in providing support and information to cancer survivors and their families," he said.
"Furthermore, over the 30 years that Daffodil Day has been running, the people of Ireland have assisted in raising a phenomenal amount – over €66 million – for cancer services and research."
"To all of the supporters, survivors and volunteers around the country, I say a heartfelt well done. It is vital that organisations like the Irish Cancer Society continue to be a voice for cancer patients and survivors."
Ahead of Daffodil Day, RTÉ's Teresa Mannion, who is a breast cancer survivor, reflected on our own experiences with the disease.
"I will never forget hearing the news that I had Triple Negative Breast Cancer, one of the most aggressive forms of the disease" she said.
"I knew I was at risk due to my age, but still I was in shock that this could happen to me."
"Hearing the words 'you have cancer' is very frightening, but thanks to advances made in cancer research more people are surviving cancer now than ever before"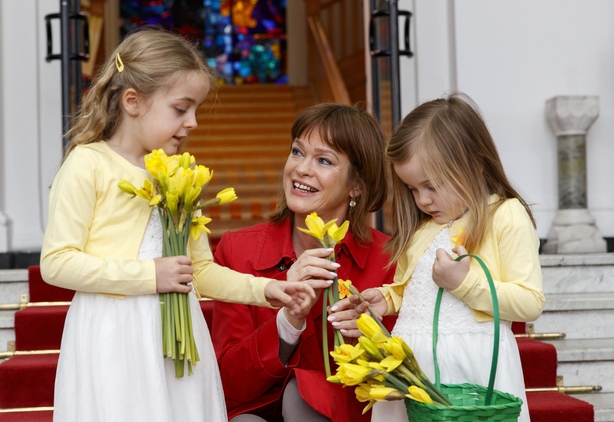 "I was diagnosed early through BreastCheck and am completely well four years on" Mannion explained.
"Daffodil Day is our opportunity to continue the fight against cancer and to support those currently on their cancer journey. I for one will be proud to wear the Daffodil on March 24th."
How You Can Support:
This year Daffodil Day volunteers in every community in Ireland will be collecting to help provide free services for cancer patients, which are only made possible by donations on Daffodil Day.
The public can support Daffodil Day on 24 March by:
Buying a Daffodil pin from one of our volunteers
Tweet, Facebook or Instagram about #DaffodilDay
Make a donation by phone CallSave 1850 60 60 60
Donate at cancer.ie
Text Daff to 50300 to donate €4 now!*
*(100% of your €4 goes to the Irish Cancer Society across most networks. Some providers apply VAT where a minimum of €3.26 cent will go to the Society. Service provided by LikeCharity (01-4433890).)
For more information on Daffodil Day visit their website here.
Vital Cancer Services
The Society needs to raise over €3million this year to continue to fund lifesaving research and to provide vital information, care and support services to help the growing number of cancer patients in Ireland.
The Society's Volunteer Driver Service has seen an increase of almost 70% in patients using the service over the last three years.
The service is carried out by trained volunteers and transports patients to and from their chemotherapy appointments in 21 hospitals nationwide. The number of journeys facilitated for patients rose to over 11,500 in 2016.
Other vital services available to cancer patients include the Society's Night Nursing Service which provided 8,000 nights of care to last year, while the Society's 13 Daffodil Centres and Freephone Cancer Nurseline provided advice and information to 42,000 people.
The Society also funds community based counselling services in local cancer support centres and demand for these services has risen by 490% in seven years.