As Bláthnaid Ní Chofaigh opens her home to the cameras for the first time, she chats to Janice Butler about life with the family, her future on TV and her struggles with self-esteem.
No one's ever done a shoot in this house," declares Bláthnaid Ní Chofaigh as she opens the front door of her south Dublin home. As I make my way into the house, there's a welcome blast of warmth from a stove which sits neatly between the hall and kitchen. Stylists and make-up artists are busy gathering their belongings as the photo-shoot comes to an end. "I had to bribe them to do it", laughs the bilingual TV presenter, referring to her four children: Síle (20), Peadar (17), Comhghal (14) and Darach (13), who were
persuaded to pose for a group shot. Bláthnaid's husband, music producer Ciarán Byrne, scarpered earlier in the morning. "He's a wise man", she says.
We make our way into a cosy sitting room, the family dog Poitín sits in the back garden, staring in at us. "He's the garden ruined", she admits. "I'll get around to that another time." Bláthnaid points out significant pieces in the room – a small light bulb from her days on 1990s young people's TV show Echo Island, a vase that was a wedding gift, a framed picture of her with presenter Mary Kingston dressed up as the Spice Girls (Bláthnaid was Ginger Spice of course), and paintings made by her children. It's a very lived-in home, full of
memories and personalities. "You shrink and they grow and their wants and needs vary", she says.
"Especially if they're doing exams – this year we have a Junior cert and a third year and fourth year in one room studying."
"You have children and you love and adore them, but they turn into strong individuals and everyone has different opinions. We can't even agree on getting a Chinese for dinner", she laughs. Portrayed as a super-mum, juggling a happy family life and a career on TV and radio, she's quick to dispel the notion. "You should have been here last night. I've been scrubbing and cleaning the last few days – it's been like the build-up to a wedding. My friend Emma Coppola came over and helped me sort the place out too. She has a great
eye."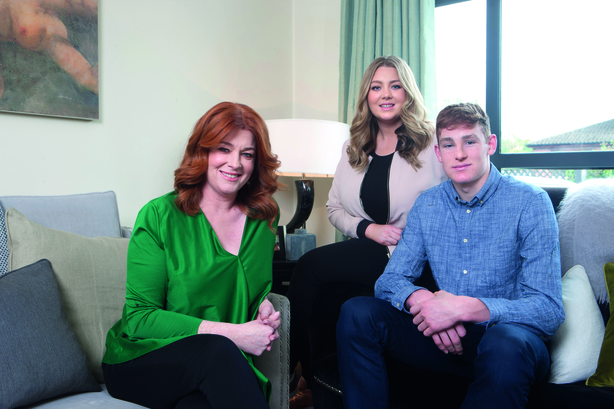 Why has it taken this famously open and honest personality so long to open the doors to her home? "I suppose word got out that I don't do things at home and I don't! This is a one-off" she says adamantly. "But I thought this might be my last opportunity to do this with all the children here, because Síle is 20 now, so she could be gone soon, although she says she's not going anywhere until she's 28. I don't know why she's so specific.
"You never think your house is that nice, but this is our home and it's full of love and everything here means something. Your home is private. It's the place you can close the door, kick off the heels and take off the face. This is very lived-in, there's four kids throwing hurleys, there's kit-bags, there's holes in the walls. I wasn't reared in a house where there was the 'good' room, we never did that and it's the same here."
When it comes to their mother being on TV, the kids are "not interested", she says, "but they'll give you a hard time if you make a fool of yourself. Like Síle will ask why I'm wearing a certain dress and Peadar will say 'At least she didn't say this.' No one wants their mum saying certain things on TV and I've learned that the hard way and you can't plan for that. They're very proud of me in many ways but it's a job at the end of the day and that's how they see it."
Since she joined RTÉ in 1990, Bláthnaid has hopped, skipped and jumped across many genres, from young people's TV to current affairs and reality TV. She done drama with TG4's Crisis Eile and showed her comic side in Republic of Telly. Her "personality is her talent", she says. Most recently, her appearance on a panel on the St Valentine's Day episode of The Late Late Show was a topic of conversation. "It was bonkers", she laughs.
"I was quite taken aback by the reaction to it. But I also wonder what would we prefer: my mother's generation, which isn't that long ago, when you couldn't talk about sex and people were having babies in secret, or how it is now? I would prefer now."
Bláthnaid was 25 when she married Dubliner Ciarán Byrne. The couple's four children are all bilingual – Síle comes into the room as we're chatting to offer a 'cupán tae'. Does she hope they'll have media careers like their mother? "No. Not that I wouldn't encourage it and I'm going to sound like my father now, but I'd like them to have choices," she says.
"There were times when the business wasn't working for me or I wasn't feeling it and I think I would have felt better if I had something to fall back on." Not having a college education always bothered Bláthnaid; so much so, that in September 2015 she decided to start an undergrad course in women's studies at University College Dublin. She had noticed a common thread in the various parts of her career and she had a passion for the area. She was absolutely terrified, needing calls of encouragement from her friend Anna Nolan at the gates of the university. "I had imposter syndrome going in there – I felt I wasn't going to be able
for it and that people would realise I shouldn't be there. "I saw doubt in people's faces that they thought I wouldn't be able – not to detract from anything else I've done, but it was one of my proudest accomplishments and I did it all on my own."
She has taken to the airwaves in recent years with her award-winning radio series, Bláthnaid Libh on RTÉ Raidió na Gaeltachta. The Saturday morning magazine show focuses on women's issues. Often labelled as a feminist, Bláthnaid doesn't hold back when it comes to equality – in particular, the male/female imbalance in the workplace exercises her mind. "On daytime TV, you always had a male and a female, you never have two men doing it, but why is that? These are the things I question and explore now," she says.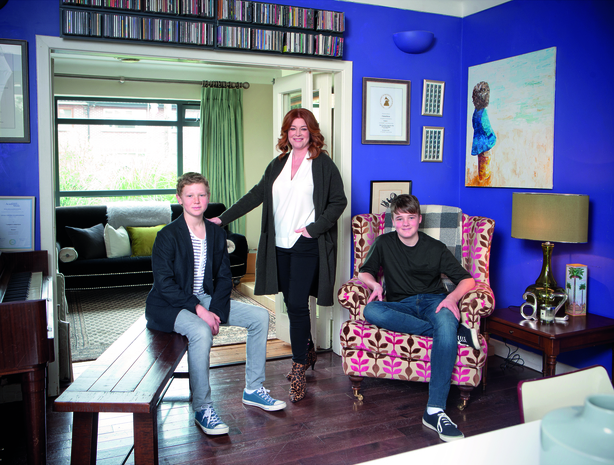 "I know in the past I was treated differently to my male co-presenters because I'm a woman, be it negotiating contracts or money. Looking back, I don't think it's done consciously, but people think 'You couldn't be the bread-winner', but I was. "I never stop pushing. I'd say managers see me coming and say 'Oh no, not this one,' but I'm there to challenge them, just as they are there to challenge me."
In a changing media world, Bláthnaid is not naive to the fact that her role must change too. "These are things I'm asking myself – what is my role in television?" she admits. "For me at the moment, I'm looking at other options, so things like podcasts, I'd like to explore those more and covering women's issues on them."
When was she happiest at work? "People would refer to The Afternoon Show a lot with me. I enjoyed it for a long time, but then I stopped enjoying it. I can't say it was my happiest really, looking back. I would say Moment of Truth was my favourite, I loved that and loved being in conversation with people."
She felt slighted professionally when she wasn't considered for the presenting gig on Dancing with the Stars. She had openly expressed her interest in the job, that went to Amanda Byram and Nicky Byrne in the end.
"Of all the gigs that have come up recently, I would have loved that. I love dancing and I love that show. I wasn't even asked to do a screen test for that," she reveals. "Ten years ago, I wouldn't have shared that.
Now, it's OK, I'm getting better at that stuff. I didn't let it in on my self-esteem." Bláthnaid always seems the most confident woman in any room. Any time you meet her, she's got a smile, a cúpla focail and a real presence – it's not just her trademark red hair that catches the attention, she's the ultimate showwoman, but surprisingly, she admits this is something she's had to master over the years.
"Confidence is over-rated – I have pretended to look confident for 26 years", she reveals.
"I've learnt confidence, I have it down to a T. I could teach you how to walk into a room, how to do a certain flick of the hair. Because that is what is asked of you. But my self-esteem is what it's all about. My self-esteem is probably a lot lower than people think and it's definitely a work in progress. I challenge myself with it every week. I can't control what people think of me. I can only do my best."
We take our conversation into the kitchen. "This is my place," she says, taking position at the kitchen counter, hands resting on the edge. There's a blackboard on the wall which she says is normally fiflled with 'to-do's' for the whole family. She describes evenings filled with carpool pick-ups, training sessions and sports games. "I'll always look in the oven with optimism that he's put something in," she laughs, referring to Ciarán.
"He normally does, he's very good." Her biggest domestic bugbear? "An un-emptied dishwasher." She describes a situation common in Irish households – chaos. She's strict that the family sit down in the morning for breakfast. It's the only chance they get. "No one speaks. The porridge is on and I'll make scrambled eggs." When everyone has left for school or work and the whirlwind has died down, she takes a few moments to ring her sister Maire for a bit of a rant and then it's off to RTÉ. "This is it, it's real. This, being at home with Ciarán and the kids, is the only thing that's real."