We love watching First Dates Ireland for all its cheesy one-liners and hilarious interviews but we have to admit, the people working in Dublin's most romantic restaurant have caught our eye on more than one occasion.

We caught up with First Dates waitress Alice Marr to find to talk love, romance, first dates and Valentine's Day.
We need your consent to load this YouTube contentWe use YouTube to manage extra content that can set cookies on your device and collect data about your activity. Please review their details and accept them to load the content.Manage Preferences
What was your best Valentine's Day?
I think my best one was last year, and basically, I was really busy at the time with college work and shows that I was involved in.

My boyfriend at the time, he gave me space to do what I needed during the day and then in the evening he booked a romantic dinner in town and he was just like, really caring for me and we had the 'Valentine's Special' with prosecco and lovely food - it was just really sweet.
What was your worst Valentine's Day?
My worst one was not particularly bad but I think it's just kind of funny.

A couple of years ago I was in a long distance relationship and just by the nature of it and how busy we both were and everything, around St Valentine's Day I just couldn't get it together to send a card so I sent it maybe like, two days late and then just blamed the post.

I like signed the date wrong, do you know what I mean?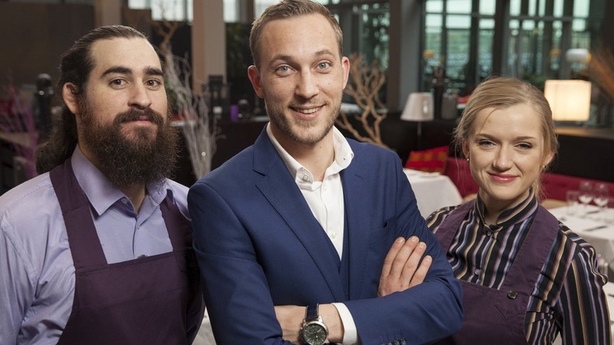 What will you be doing this Valentine's Day?
So this year I'm single so for Valentine's Day, even though there's little things I'm doing, I'm doing what my friends have coined 'Galentine's Day'.

So just a few of us are going to cook a nice dinner together and then maybe have a few cocktails or something like that, but just like, have a really nice and relaxed Valentine's evening to have fun.
What is the most romantic thing that's ever happened for you?
For me, the most romantic thing that happened was that a guy wrote a song for me once which was really sweet! It was lovely, and it was all about me, it was a bit insane but really sweet.
As well, I had a boy that, basically I love handmade gifts and around Valentine's Day he basically hand-carved and crafted me an incense burner and a couple of other things out of wood. I just thought that was really lovely and really thoughtful.
I think for me, what I always find really romantic and lovely is spontaneity and surprises.

So when I've had times where I'm a bit stressed or something but I have a bit of time and someone that I'm seeing just says 'OK put on your walking boots' or 'Here's what you need and you're going to come with me' and we go somewhere in nature or brings me on some little trip or something, I absolutely love that.
Most romantic place in Ireland?
I think that often romance is found in simple things like in nature so in that situation I love the Iveagh gardens and also the Rosie Hackett bridge, one of the bridges over the Liffey, it has these little benches where in the evening you can sit and look over the Liffey and see the lights.
Also, I spent a lot of time in Brittas Bay growing up and I think that beach in Wicklow, my sister got engaged and married in that area, and I just think that beaches, and I'm from Clare so I'm near the cliffs of Moher, and all of that kind of nature is really lovely.
In terms of specific places, there's a cafe called the Fumbally Café in the city, and for me, I love that as a place to go to with the person you're seeing just for a cosy afternoon and have some coffee and things and relax on the couches.
If you missed this weeks premiere of #FirstDatesIRL it's on again, right now on @RTE2 pic.twitter.com/bYauD88BMt

— COCO Television (@COCOtv_) January 22, 2017
What would you wear on a first date?
I would try to wear something that isn't too dressy but I know that I like how it looks and is flattering. So, for me, my favourite kind of clothes are often stuff that I've picked up in markets and charity shops or just one of a kind thing that I've found when I've been travelling.

Also, there's a brand called Seasalt that is all organic fabric clothes in Marino wool and things like that and I really love their leggings and their jumpers.
I think if I was on a first date I would be wearing something like a nice pair of jeans and a nice top, like a white or a blue top or jumper that would bring out my eyes, so it's really relaxed but flattering.
What's your ideal first date?
I think ideally on a first date, for me, I'm happier just to have a drink than to have dinner. It's easier to just have a drink or a coffee because sometimes I think, the pressure of eating with a person, can be quite intense.

So I think a drink somewhere in a nice little bar in the city where you can just chat, a place that isn't too busy or too intense would be kind of ideal because then you can relax. If it's not going well you can finish your drink and leave but if it's going well you can have a few more drinks, you know?
Don't miss First Dates Ireland every Thursday on RTÉ2 at 9.30pm.