We probably won't get a white Christmas this year but we'll definitely get a rainy one! If you plan on cycling your way to work this winter, these are some handy Lifehacks for biking in the rain.
1. Socks
Wet socks stay wet, but socks made of merino wool (a type of sheep's wool) are more comfortable than your average sock when dry or wet. Alternatively, if you shop around you can probably find some good quality waterproof socks. If you're really stuck you can pull plastic bags over your socks, under your shoes - you'll have the last laugh when you're dry at your desk!
2. Glasses
Rain drops on your glasses can be a real pain and instead, opt for some good quality contact lenses. If you're not a regular lense wearer, you can find inexpensive daily lenses in most pharmacies. Just pop a few packs in with your rain gear.
3. Waterproof Backpack
Food, spare clothes, mobile phone, snacks and any other essentials should be kept safe and dry by a waterproof backpack. Stuck with a poor quality bag? Throw a bin bag around it for your journey or go mad and buy a backpack cover in any camping store.
4. Mudguards
Rain from the sky will make you wet, but rain splashing up from the ground will make you miserable! Whether it's from cars or other cyclists riding behind you, muddy water can be a pain so mudguards (or fenders, to our US cousins) are absolutely essential. Plus that mud strip up the back? Not pretty.
5. Avoid jeans
Never ever wear jeans! It takes ages for denim to dry up and it will leave your legs feeling cold and damp. Choose a quick-drying fabric or waterproof trousers with flaps at the bottom so that the water doesn't run into your shoes. Or even better: shorts! Although, they may need to be saved for warmer summer days...

Seems obvious but...
6. Raincoat
We're well used to wet weather in Ireland but how many of us actually own a good quality rain jacket? Invest in a decent (read: slightly more expensive) raincoat. It should be waterproof but try to find one with material that can breathe, otherwise, you'll be wet with sweat instead of rain! Also, be careful with windproof jackets, they're good for cold winter days but much too hot for a summer bike ride.
7. Cover your head
Okay, most raincoats have a hood, but when the wind kicks in your hood might not last too long! Always make sure that you have a good tight hood or hat on and add a helmet on top for good measure.
8. Boots and Shoes - non-slip soles essential
There is a great selection of high quality and fashionable boots and shoes out there. Make sure you close them properly so they don't fill with rain and always make sure that your shoes have non-slip soles. Top tip: Wear goloshes! Aka kind of waterproof sock for your shoes that you can find in all good sports shops.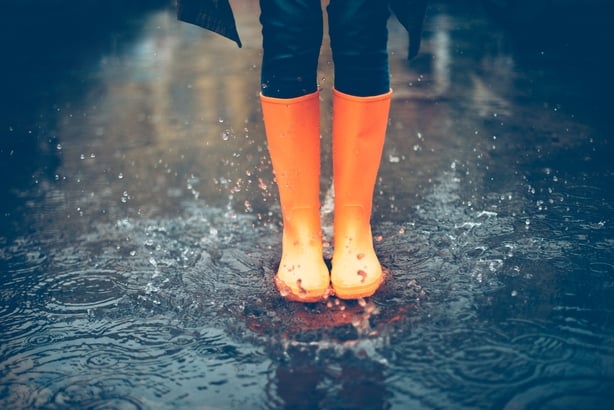 Source: Aha!