Run in the Dark takes place this Wednesday November 16 in 50 cities around the world to help raise funds to fast-track a cure for paralysis for the Mark Pollock Trust. I will once again be one of 25,000 people who will leave the comforts of home (snuggling up for bed-time stories), to throw on the running gear and prepare to pound the pavements for either 5- or 10k.
This is the only race I do now due to lack of spare time and cartilage, and with a week to go and every muscle in my body asking why, here's what I'm telling myself.
I've met Mark and his fiancé Simone George many times and I believe in them and what they are trying to do. Not only are they good peeps but they are inspirational, big-thinkers, the kind that make you want to be a better person, mum and worker. They, and their achievements to date, are life affirming.
In a world gone Trump mad (apparently, 2016 may be used as a term in the future to refer to insane times, as in 'Sh***, that's so 2016!'), being involved in supporting an event like this is earthing. Getting the time to train for it is not.
Mums: How do you do what you do?
I look around at so many fan-bleedin'-tastic mums and the older I get, the more in awe I am. Not just the big, world stagers Michelle Obama, Hillary Clinton, Victoria Beckham (read her inspirational working-mum tips here), Anya Hindmarch to our own Mary McAleese, Miriam O'Callaghan or Pippa O'Connor but the ones closer to home; my Mum, sisters, friends and colleagues.

As they know, I am obsessed with how you all do what you do. I love to see your successes, your organisational hacks, balancing acts and importantly, your hands-up honesty when it all goes to sh**. I love your humour, your sassiness, your kindness, determination, softness and steeliness in equal measure.
Bad Moms Rule
Mila Kunis' Bad Moms with Kathryn Hahn and Kristen Bell was an important film.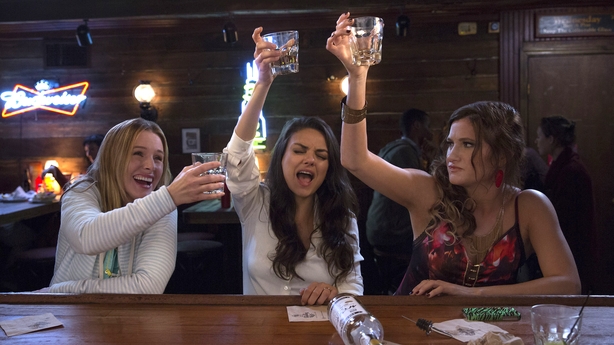 Not because it encourages moms to secretly go ape on PTA nights (loved how they all crashed before midnight though - true dat). Or because it's Oscar worthy, critically acclaimed art but simply because it tapped into something that we can all relate to; being a mum is the best, most-rewarding job but its also bloody hard sometimes and we need to help, instead of judge each other.
Don't know about you but since I became a mum, I'm not sure what I did with all my time before. Maybe sleep, shop, TV, work-out, sleep, chat, dance, sleep, read, travel, sleep? Now I think I'd be tempted to take 5 hours sleep over €500 – although Christmas is coming plus I'd probably give it to Run in the Dark.
You can donate too or whatever moolah, spondoolies, wonga, bangers and mash you have to spare. Or better still, if its not sold out you can join in the craic (atmosphere is genuinely great...before the race and again at the end. #NotaNaturalRunner). Better yet, meet me at the 5k mark with a warm, strong refreshing punch and I'll love you long time.

Closing Dates if not sold out:
Cork and Dublin - Friday 11th November 5pm
Belfast - Sunday 13th November 1pm
London & Manchester - Tuesday 15th November 1pm
Popups - Tuesday 15th November 6pm (local time)
We need your consent to load this YouTube contentWe use YouTube to manage extra content that can set cookies on your device and collect data about your activity. Please review their details and accept them to load the content.Manage Preferences