Cathal Murray presents RTÉ Radio 1's Late Date, bringing music to the masses at 11pm every evening (Mon-Fri) – a job he says he loves doing so much, "it rarely feels like work." Coming from a large family of 10, the Athlone native says there was never much time to finesse his culinary skills – but he's learning.
Currently living in Glasthule on south Dublin's coast; ice-cream, a dip in the sea, and dinner with friends provide the perfect antidote to late nights in front of the mic.
1. Tell us about a typical working day for you, if you have such a thing.

I love what I do so it rarely feels like work. I'm on-air five nights a week, finishing at 2am, so my day starts a little later than most people. I'll catch up on work emails and listen to music (I get sent a lot and try to listen to as much as possible - how lucky am I?) I live in Glasthule, which is right by the sea, so I usually take a break to go for a run on the east pier in Dun Laoghaire and if it's not too cold I'll finish with a dip in the sea. After that my head is clear and I can focus on compiling the playlist for that night's programme. Getting to play music to RTÉ Radio 1 listeners at night is a pleasure and a privilege, one that I don't take lightly.

2. What do you do in your down time?

I listen to a lot of music; I love going to gigs; watching and listening to documentaries; visiting galleries. I also love visiting my mum in Athlone, going for dinner and drinks with my pals... the usual stuff.

3. How important is down time to you?

Not so important because, as I mentioned, I love what I do. Being on-air brings its own little stresses and strains, so having a couple of days off at the weekend allows me to be away from that - I don't like being away from it for too long though. I'm getting to enjoy weekends again, though, after presenting a programme on Saturday and Sunday mornings for six years.

5. What do you do to unwind before bed?

I finish work pretty late when most of the country is fast asleep. Anyone who performs or presents will be familiar with having that "still switched on" feeling for a while after the show is over. It was hard to get to sleep for the first few months but now a cup of tea and a podcast help me drift off.

6. What do you like to treat yourself with that's 'just for you'?

I'm easily pleased: a good book and a nice pint. I turned 40 recently and have found myself going for a lot more walks. If I'm at home I'll grab an ice-cream, sit down, stare out at the sea and think about the airwaves…


7. What are the signs that let you know it's time to slow down a bit or take a holiday?

When my freckles start to fade.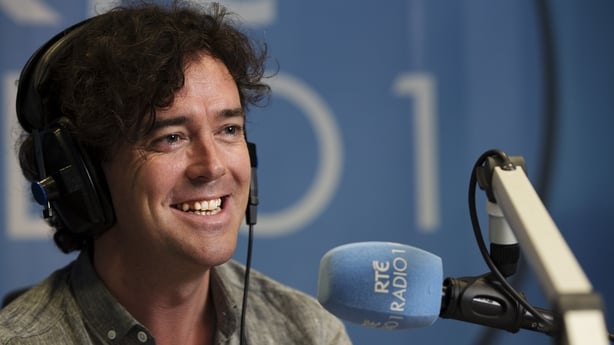 8. Do you pay as much attention to your mental health as you do your physical health?

If you earn a living sitting in an empty studio talking to thousands of people and don't question your mental health, then there's definitely something up with you! I've learned to deal with the little things that used get to me as I've gotten older. You need to take a step back, breathe deeply and realise that there's no point in worrying about things you have no control over. My DJ name could have been "Cathal Worry"!

9. How important are diet and exercise to you when it comes to maintaining good mental health?

I grew up in a family of 10. It was 'get the dinner, breakfast or whatever into you and off you go' - we were not big foodies. I'm not a great cook but I try. Exercise is very important, a good run or a game of squash is great for one's clarity.

10. Do you have a 'calm down quick' tip?

Breathe, stretch and then gently walk backwards away from the person or situation that's riling you up!