How and why did you start your business?
My daughter is the inspiration behind setting up the business. She has suffered badly from eczema since she was a baby and I came up with the idea when searching for solutions that could help her. With 1 in 5 kids having eczema, I knew there must be so many parents out there that were going through what we went through with our daughter, i.e. the sleepless nights due to unrelenting itching, not knowing what condition her skin was going to be in the following morning and the ongoing risk of infection from the scratching.
Eczema can be very distressing for both parent and child and there is no cure for it – it can only be managed and it's all about maintenance.
Itchy Little Monkeys offers solutions for kids with eczema. We aim to remove the stress that eczema can cause children and their parents. We currently offer two products which include our Shruggi and our story books.
Shruggi is a form of scratch mitten made from organic cotton and silk and comes in bright, colourful child-friendly designs. It helps prevent children damaging their skin from scratching their eczema and plays a huge part in breaking the itch-scratch cycle. We also have a range of storybooks featuring the Itchy Little Monkeys, Max & Mimi. The stories are fun for kids while also providing top tips for parents.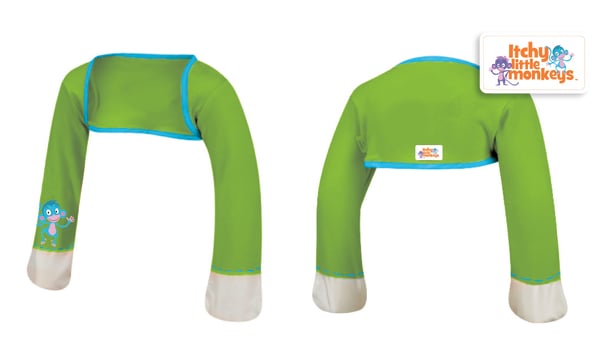 Where did you get your ideas for your designs?
After endless searching for products that could help my daughter, I realised I had to come up with something myself!
I thought it was bad enough that these kids have to go through the pain and frustration of eczema, that if we could take the stress out of it for them somehow and add a little fun, that would be such a help.
So, I created a prototype and worked with expert dermatologists and specialist dermatology nurses on developing the products.
What is the most challenging thing about your job?
Balancing lots of different areas of the business at the same time.
What is the most exciting thing about your job?
The most exciting things to date have been seeing our products come to life for the first time, making our first sale and seeing our first feature in the press.
What is the process of creating your designs?
When creating the Shruggi, I worked with dermatology experts on developing the products and I have a fantastic illustrator, Olya who I work with on ideas for the books.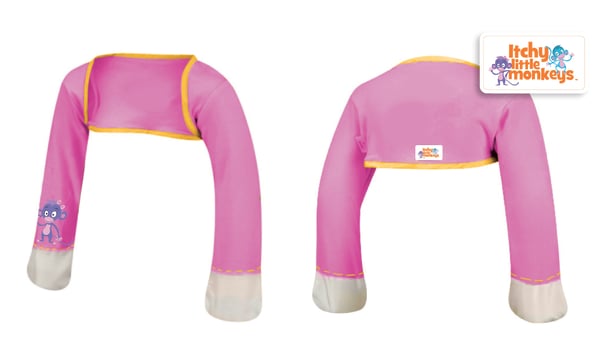 Do you test out the book ideas with your kids first? What's their favorite?
Yes, I have lots of little market researchers who test them out for me. As well as my own daughter and children of friends and family, I conducted research with kids in hospital outpatient departments and GP surgeries. Doctor Visits are Fun is proving the most popular book at the moment.
What inspires you?
My daughter - knowing how she has suffered badly from eczema over the years, how tough it has been for her and her resilience in dealing with it.
What does your working day look like?
Each day can be different depending on what is going on – it could be processing orders, exploring new sales channels for our products, working on expanding our product range, to talking to parents of children with eczema to offer them advice.
Who are three people you admire?
My husband – with a wealth of business experience, he is a huge motivating factor in the day to day business.
My parents – they are immensely supportive of the business, offering help and assistance wherever necessary and are also being very obliging to help out with child-minding has been invaluable!
Dermatology doctors and Nurses - doing such fantastic work helping kids with eczema every day.
When you get the equivalent of writers block, do you have a default template or idea to go back to?
Because the stories are based on personal experiences of dealing with a child with eczema, I haven't run out of ideas yet – there is so much we have learnt along the way that we can share with other children and parents.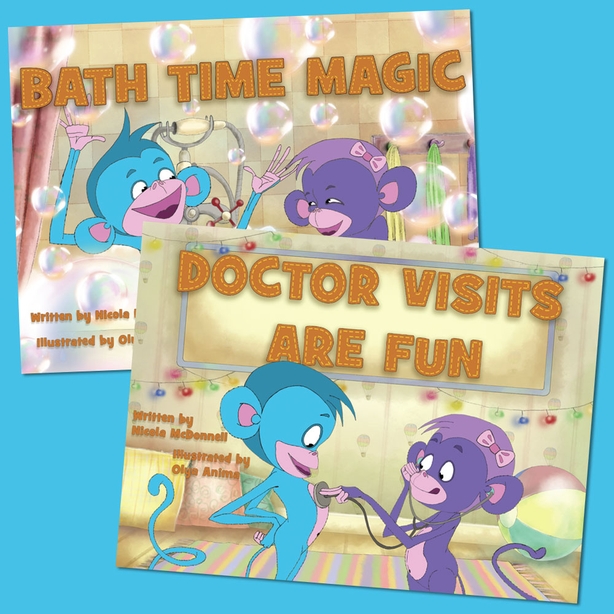 Your proudest achievement?
There have been a few when it comes to the business – receiving support from my Local Enterprise Office when initially getting the business up and running, being accepted and participating in the New Frontiers Programme sponsored by Enterprise Ireland and of course getting our first order – it was the validation for all the hard work that had gone into building a business.
Where can we find you online?
At our website as well as Facebook and Twitter.
Chosen platform (social or otherwise) to promote/sell your wares?
Our website www.itchylittlemonkeys.com and now in McCabes pharmacies. More pharmacies coming on board soon!
If you would like to feature here, we'd love to hear from you e: rtelifestyle@rte.ie or find us on Twitter, Instagram or Facebook.