Like a scene in a Disney animated movie, I awoke Saturday morning to the sounds of birds singing and sunshine fighting its way through the gap in my curtains.  I simply had no other choice than to leap out of bed, grab my mat and head to Dartmouth Square in Ranelagh for a Saturday morning yoga class with Happenings!
Throughout the summer months, Happenings enlist the skills of various teachers to teach an hour long class on Wednesday evenings at 6pm and Saturday mornings at 11am.  A mere €5 for the pleasure, the money goes towards the upkeep of the local park that is a little oasis within the depths of Ranelagh.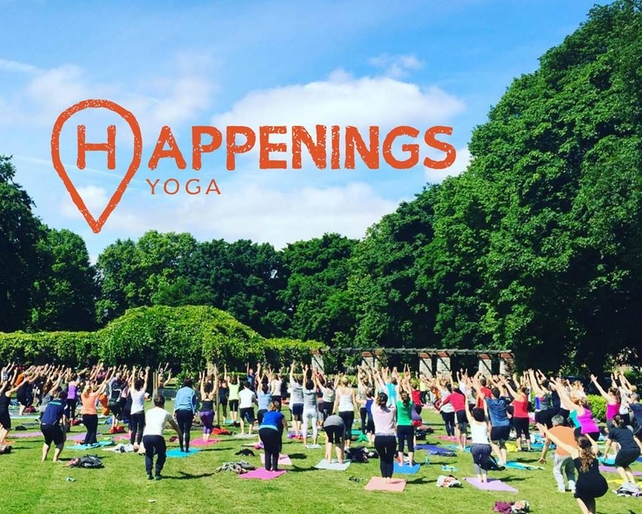 aturdays host was the lovely Bev Porrino.  With a career in health and wellness spanning three decades, she has studied psychology and sports, trained as a nurse and also in social work practices.  All of which have contributed to her light hearted and knowledgeable approach to teaching.
After a short centring practice, the class plan was to prep for an inversion practice.  Often, the word "inversion" can send a yogi running for the hills!  With classes like these, accessible to all ages and abilities, the challenge for the teacher is to cater to all levels. 
However, Bev is a pro!  Offering a cue to beginners to simply make the shapes and remember to breathe, and to the seasoned practitioner, the opportunity to go with the flow meant that all levels were instantly catered for.  The atmosphere became relaxed with Bev's bubbly personality inspiring a ripple of giggles now and then.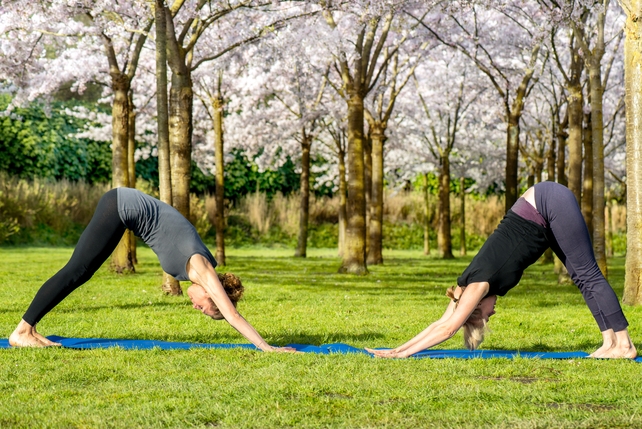 Each pose was built upon from the basic to more challenging options.  When it came time to go upside down, we had the option to stay in Downward Facing Dog (Adho Mukha Svanasana) or Childs Pose (Balasana).  Inversions must be approached with safety and awareness so this is not an option for a beginner.  Even the seasoned yogi may harbour a fear of the inversion. 
There's that initial panic, fear of injury, or possible mortification if you end up falling flat on your face with your t-shirt over your head!  Those ready but hesitant to take on an inversion practice, why not take the advice of well known author, Susan Jeffers and "Feel the Fear and Do It Anyway". You may be surprised at your own ability.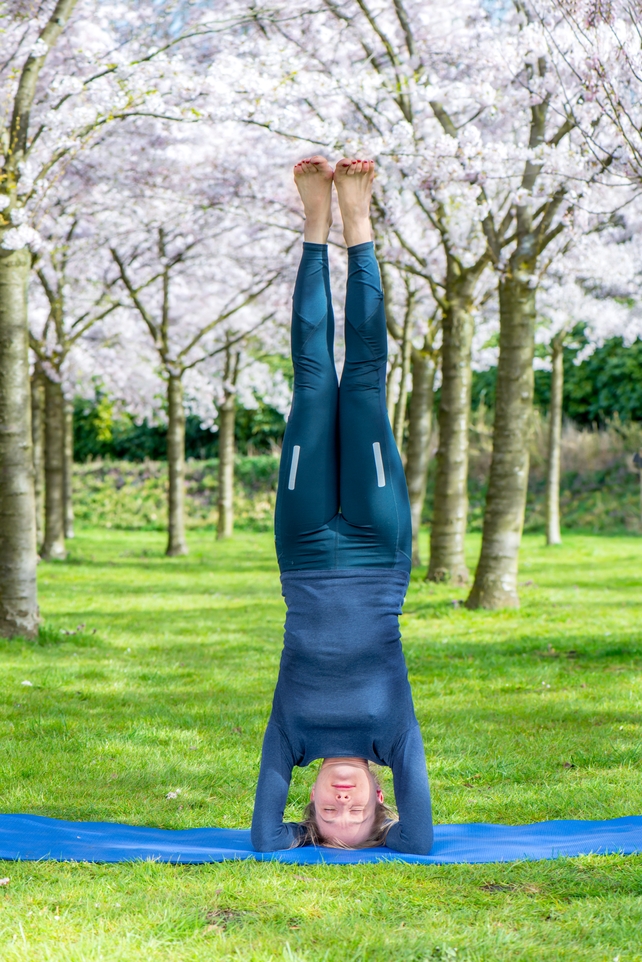 Following a lovely relaxation accompanied by some live acoustic guitar, there is no doubt in my mind why outdoor yoga is growing in popularity.  The low cost and accessibility is most attractive coupled with a mix of teaching styles and the fresh air. 
The downside is that we live in Ireland, the land where small talk is dominated by the weather.  We are not always guaranteed the fine weather and therefore, we are not always guaranteed an outdoor yoga class.  Best thing to do, if you are planning to check out Yoga with Happenings is to keep an eye on the Facebook page for updates.
Other locations for yoga in the park include:
Bushy Park Outdoor Yoga every Saturday at 11am with Little Bird
St. Stephens Green Outdoor Yoga every Saturday at 11am with Outdoor Yogis
Phoenix Park Outdoor Yoga every Saturday at 11am with Outdoor Yogis
We will have brand new yoga and fitness posts every week on RTÉ Lifestyle. Follow our Facebook, Twitter and Instagram so you don't miss a thing!