"Oh my God, that's too funny!" squeals Bláthnaid Treacy when I show her an RTÉ Guide Christmas cover from 1995 on which she appeared at the ripe old age of seven, sitting cutely with Joe Lynch, her Glenroe co-star. "I remember that day so well", she recalls. "I was wearing my own dress from home for that." Bláthnaid had started early enough on the iconic soap, becoming its newest star at the age of three months. She played Biddy and Miley's daughter, Denise Byrne, a role she continued for a remarkable 13 years. As a teenager, it wasn't so cool to be in a soap that featured farmer infidelity and dodgy greyhounds, and Bláthnaid decided it was time for a "normal" childhood. All these years later, Bláthnaid says people still remember her as Denise. "If you're known for being on something, you're going to get asked about it all the time – I don't mind, it was an amazing thing to do".
Returning to life as a normal teenager, Bláthnaid concentrated on school and spending time with her five older siblings in their home in Bray. At UCD, she studied Irish and archaeology, but realised pretty soon that she wanted to get back into TV when a friend who was working on a show asked her to help out as a runner. "I was around all the wires and equipment and I just had flashbacks to when I was in Glenroe. It was very nostalgic, and I realised then that was what I wanted to get back to." Then TG4 were looking for someone to make a new travel show, Ó Tholg go Tolg. Unsurprisingly, Bláthnaid proved a natural and when the quirky couch-surfing show aired, RTÉ spotted exactly what they were looking for – a new presenter for the weekday youth-strand show TwoTube, which she and her co-host Stephen Byrne have made their own in the four years since.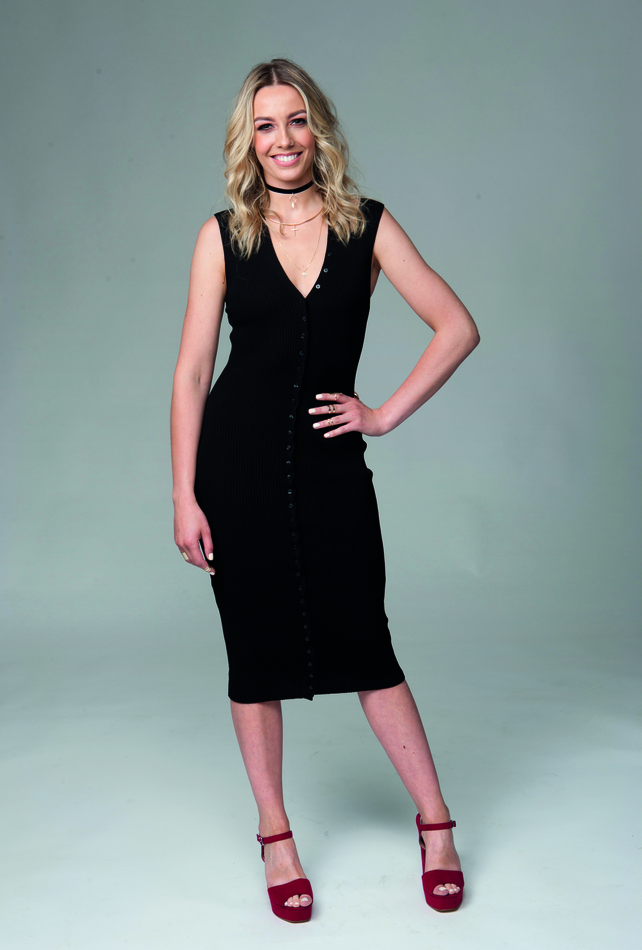 The Bray native has come a long way since Glenroe. She's a ball of energy in person, but she admits that her job as host of TwoTube is non-stop, which may account for her livewire manner. She talks at a rate of knots and it's hard not to get excited with her along the way–her enthusiasm for life is infectious. In the past few weeks, she saw Beyoncé at Croke Park, which was "unreal", went along to Longitude in Marlay Park – "amazing" – and is gearing up for this year's Electric Picnic for RTÉ 2.
"The first time I did it, I was freaking out", she says excitedly. "You have access all areas, get to run into all these crazy famous stars, you just feel so lucky"
Bláthnaid is music-mad and she's on top of the festival lifestyle, with a very cool look and a jazz musician boyfriend (Charlie Mooney of indie band, Croupier). She readily admits to Charlie's influence on her musical taste. "He knows everything about jazz and blues so that obviously influences me. I don't understand jazz, not many people do, but I really like it. We're planning a trip to New York in October and we're going to check out as many jazz clubs as we can."
Four frenetic years on with TwoTube, Bláthnaid is thoroughly professional when it comes to meeting the stars and says she's found a best friend in co-host Stephen Byrne. She says her time on Glenroe gave her an advantage when it came to "performing" and she feels completely at home in front of the camera.
"Growing up on set definitely influenced me. It was second nature. If I hadn't been on Glenroe and had that experience I probably would be a teacher or something. I think because I grew up around cameras I was very comfortable in front of one, when a lot of people freeze-up. That was a huge advantage for me. I was able to be myself when I had to do the audition for TwoTube".
Days on TwoTube and her Friday evening The National Chart Show on RTÉ 2fm, mean that Bláthnaid regularly works six days week. She's "on" all the time; a product, she says, of the times, and feeling like she can't take her foot off the pedal.
"I think it's our generation – you never switch off. You have to work your ass off to get a job and the minute you get it, you feel you have to work your ass off to keep that job. It's a big part of why I get overwhelmed: I always say yes to things. I think it comes from graduating into a recession; you just have to work harder. I'm sure the anxiety levels with our generation are through the roof because no one knows how to switch off. We're never present."
Does she get overwhelmed? "Sometimes it can get too much – some weeks I'm working six or seven days and it's funny because believe it or not I can be incredibly lazy. I love lying in and sleeping until 12, so there are times I want everyone to leave me alone – I want to watch an episode of Girls, eat chocolate and escape from the world," she laughs. "I'm very comfortable in what I'm doing and I'm definitely more confident too. It's a really competitive environment and there's a sense of 'Oh I really want to get that gig'. You constantly feel like you need to be knocking on doors. It's just what you have to do in this job."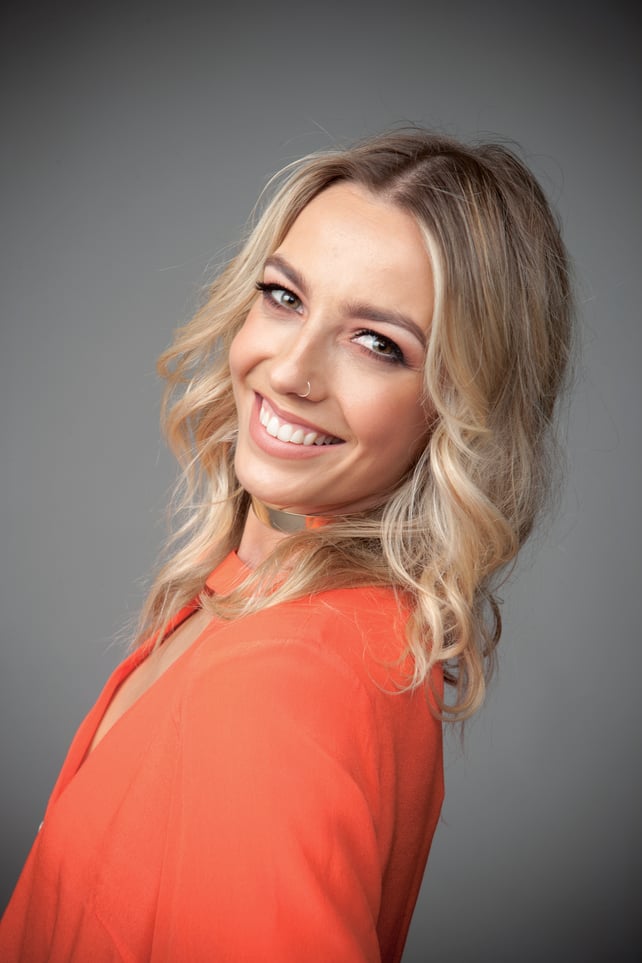 TV presenters who start in youth TV can find it difficult to make the transition to the mainstream of TV – is that something she thinks about? "I really don't", she says firmly. "The show that we do isn't children's TV. It's young adults. I'm doing radio as well and I've done lots of music shows, so I think producers can see that I'm versatile. I don't think transitioning into an older audience will be difficult because I've done it to an extent already."
Our conversation shifts to more serious issues: the economy, housing, the terror attacks in France. She says these are all concerns she would like to address in the media.
"Why are children left homeless, why do we have homelessness in Ireland when there's empty houses all over the country? The rich get richer and the poor get poorer and it's just crap. I've seen so many of my friends leave the country because they couldn't get jobs here. I worry about getting a mortgage, paying high rents, paying for a crèche if I have kids – these are the worries for our generation. Eventually I would like to buy a house and start a family, but am I going to be able to afford it? These are the issues I'd like to address in projects I work on."
As you might expect with someone who never switches off, Bláthnaid is taking advantage of TwoTube's summer break, even as she tells me she's feeling idle. "I feel at the moment I'm not doing anything, but then I stop and think about it...I'm doing a ten-part fashion-themed series for TG4, I'm on 2fm, I'm doing Electric Picnic and the Lotto, so I am working!"
However, she says she will also take some time off in the coming weeks, with a trip to Cambodia and Vietnam planned with her boyfriend. "I love being that crazy busy, but it's good to have some time off...I need to relax!" As she bounces out of her seat to make an exit, I can only agree with her. Right now though, she's got a radio show to prepare, so time off will have to wait.