Making arts and crafts was always part of my life growing up. As children we spent hours outside gathering flowers and leaves to make our magic potions, passed fun time on the beach collecting shells to paint, and dug into my mum's wardrobe to find something we could use to make wonderful DIY Halloween costumes. Toilet roll tubes magically turned into Christmas tree decorations and personally made birthday cards were always a treasured gift for the grannies and granddads. However, over the years, as school, college, work and generally 'being an adult' took over, I never really got a chance to do those fun things any more; life just got in the way. It wasn't until I had my own kids a few years ago that my creativity was re-awakened and I remembered all of the fun things that my family and I had made together when I was young; in fact, no family event was ever celebrated without something handmade.
Now that I have children, it's easy to appreciate the natural creativity and vast imagination of every child and, in this diverse world where there are so many challenges, I feel it is important to harness this creativity as fully as we can. With this in mind, I started doing small arts and crafts activities with my kids and I realised just how much they enjoyed it. Yet when I talked about it with my friends, they would say to me, 'But I'm not an arty person, I wouldn't know where to start!' This inspired me to start my blog, and eventually led to me writing this book. Get Crafty is a craft book for everyone. You do not have to have any previous art or craft experience to be able to enjoy the crafts I have included. The book gives you all the tools you need to spend quality time with your children, while creating something that will give them hours of entertainment and stimulate their imagination. Doing crafts with your kids is also a wonderful opportunity for you to switch off. Why not put away your phone, turn off the television and focus on making something special together?
Get Crafty is full of really simple things to do and make that reflect the best memories I have from my childhood. I hope it brings back some happy memories for you too, and helps you create more.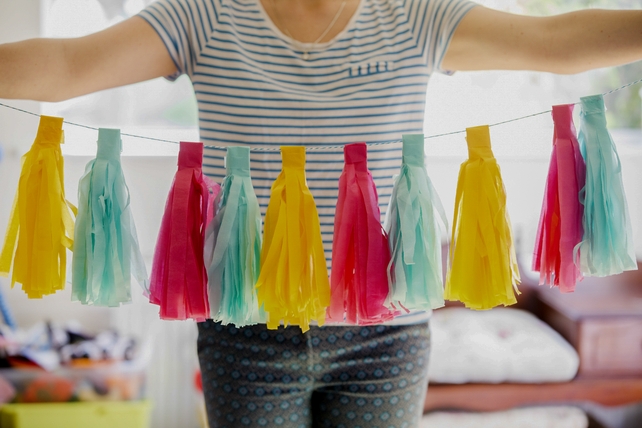 My Writing Space:
I have a few favourite writing spaces depending on the time of the year. Our house is pretty busy with five people in it (two adults and three children) so it can be hectic at the best of times. We live in a normal 3 bedroomed terraced house so I don't have much space to escape from the washing, cleaning and piles of arts and crafts supplies that are scattered throughout the house. In the wintertime I love to sit on my favourite armchair in the window beside the radiator with a hot cup of tea. I have an actual desk under my stairs but It's really just a place to gather post, bills and more craft materials. I don't like sitting at it as there is not much light there. The odd time I clean it up and make it look pretty as it makes me feel better but I hardly ever actually sit there.
In the summertime my favourite place is sitting in the window of our mobile home in Co Wicklow. I can't explain the feeling of calmness that comes over me when we go there. Even with the three kids running around there is a silence like no other when you escape from suburban living. I think I am a country girl at heart. I love the sounds of the cows, birds and the trees swaying in the wind. I find myself way more productive in the summertime, much happier in general when I'm closer to the sea.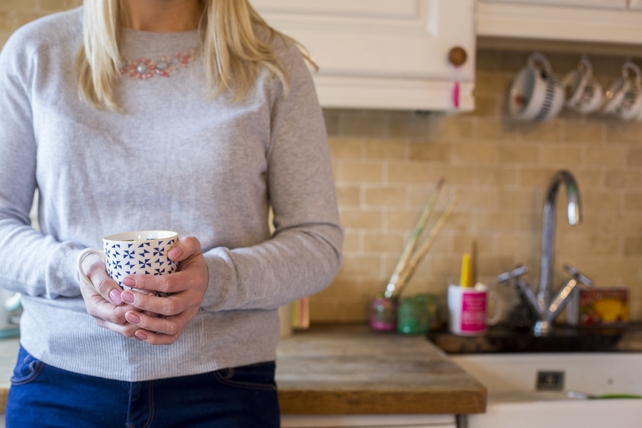 My Writing Day:
It's hard working from home as you have to be very disciplined and try and separate work and home life as there is always something to be done around the house. I drop my son Harry (age 6) to school and my daughter Nicole (age 2 1/2) to crèche and I come home and try and get our baby (Juliet 5 months) to go for a morning nap. I have to grab little nuggets of time where ever I can get them at the moment. I know it won't always be like this so I just have to roll with it.
Once everyone is settled I spend alot of time in my kitchen. As it's mostly children's crafts that I write about I always have a few new craft projects on the go at a time for my blog www.getcrafty.ie
Once I make the craft, I then photograph it on my kitchen island and then I get down to editing the photos on my laptop. The writing is actually the last thing I do, once the craft is tried and tested. I would also test out alot of my craft ideas with the children so it just depends on what day it is and what other activities are on that day. My daughter Nicole only goes to crèche three mornings so the other morning's I try to have a craft activity set up for her at the kitchen table or if I'm working on a deadline I'll stick on the TV for a while so I can get things done. I also put aside time every day to update my Instagram, Twitter and Facebook pages.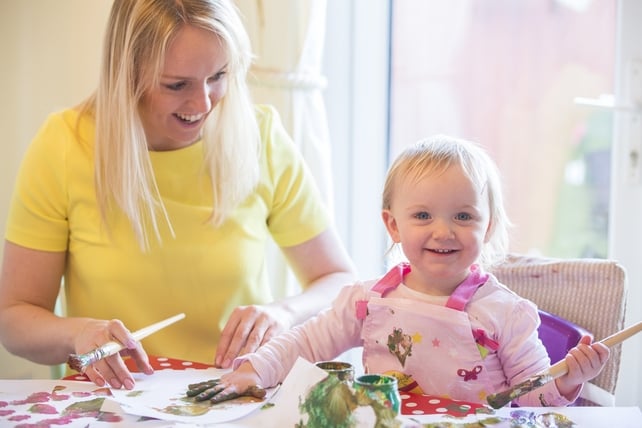 Inspiration for the book:
The inspiration for Get Crafty is definitely my children. Every child is so unique and individual but they all have one thing in common and that is the need to be loved and to have your one on one attention. Art is a fantastic way to communicate with your children and spend time together. You don't have to be an artist or be any way qualified to do the crafts and activities in my book. They are very simple ideas using alot of materials that you would already have around the house and everything else can be picked up at your local art shop at a small price. I always say it's the process not the product when it comes to doing crafts with your children. All they want is your full attention, even if it's just for five or ten minutes with no other distractions. It's hard to do but you can try make the time and you will see how they react, it speaks for itself. Children have such wild imaginations, if they want to paint the sky yellow instead of blue, encourage them. There is no right way. If you are a bit of a perfectionist and you feel like jumping in and re-organising their efforts, stand back. Does it really matter if the arms are in place of the feet and the head is too big for the body? Just sit back and see how creative the little people can be.
With the Summer Holiday's fast approaching, where most children will be off school for eight weeks it can be a daunting time for parents. Get Crafty has over 40 fun and exciting craft ideas for all ages that anyone can try their hand at. A perfect gift for teachers too for the end of school term.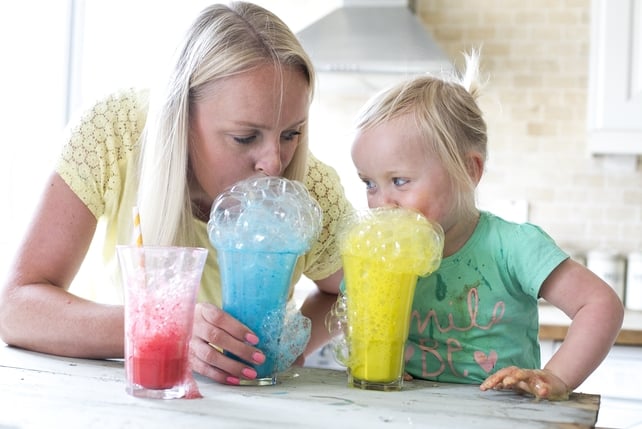 Get Crafty is published by Mercier Press and is available nationwide RRP €14.99 or can be purchased online here!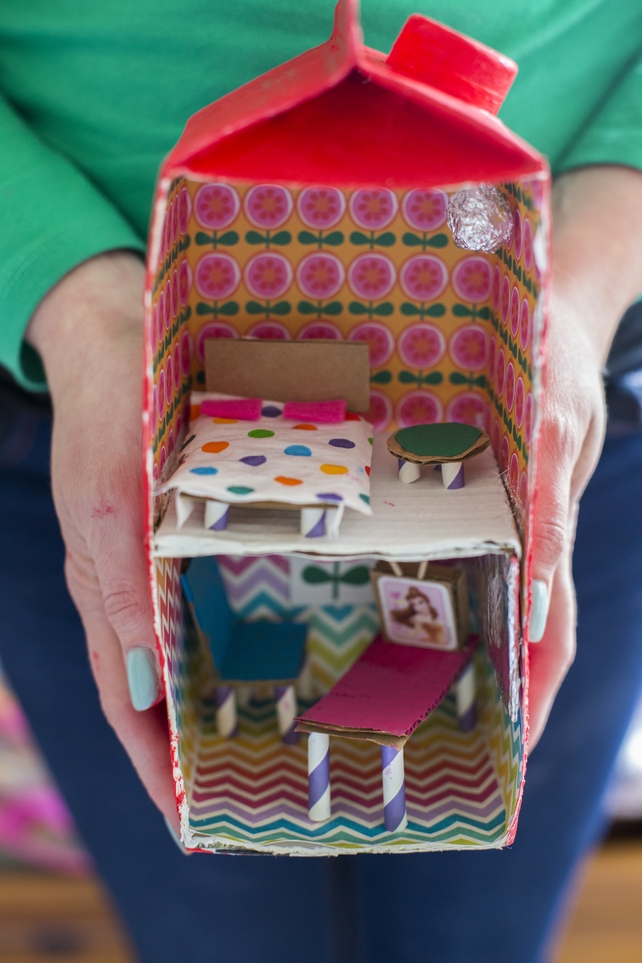 Social Media:
Blog:www.getcrafty.ie
Instagram: Get.Crafty
Twitter: ali_coghlan
Youtube: Get Crafty
To buy a copy of Get Crafty click here or be in with a chance to win a copy in our competition here!