Owner of Barbiere and lead barber, Enny Buono said: "We celebrate men's style every day in Barbiere and always encourage our customers to take the best possible care of themselves.
This year we were very keen to support Movember and men's health world-wide, in whatever we could."
We decided to put Buono to the test in RTÉ LifeStyle with a few hairy questions such as - is the beard still in fashion? "Yes but it's definitely past its peak. Certainly big beards we're seeing less of but well-groomed short beards and stubble are still fashionable."
What are the key male facial hair trends at the mo (pardon pun!)? "Moustaches (apart from in Movember!) haven't really taken off in Ireland though you will see them on the streets of Shoreditch etc. In Italy the Poirot moustache had its moment but it's passed.
"Right now, short beards or stubble are the Irish fashion - even if the catwalks of Milan are showing clean-shaven guys."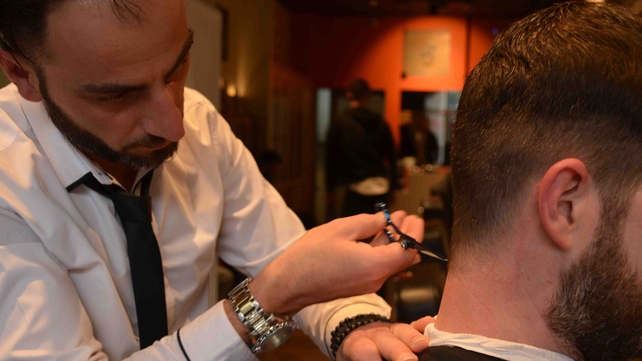 At what age is a hipster still a hipster (do grey beards count)? "Hipster is not an age; it's a state of mind!" Nahhice – great answer.
How often do guys get their hair (on head and facial) done? "Our clients tend to have a haircut every 3 weeks and a beard shape up weekly. That's maybe not typical but we attract the guy who likes to look sharp!"
Has the cost of male grooming sky rocketed with these changes in facial hair fashion? "Not really, because they're saving on razor blades! But a well-groomed beard definitely requires some expense if you want to keep it looking good."
How does Movember affect your business - good, bad or indifferent? "This is our first year in business so we don't know yet - but we hope it's really successful and that we can raise some good money at our Shave Day on October 31 for this fantastic cause!"
Facial hair - does it affect guys pulling/kissing power??! "It definitely helps! We think in general women won't miss the big beard but they like a man with a well-groomed beard or a bit of stubble."
You can register for Movember here and find out more information about Barbiere here