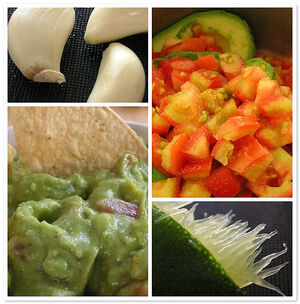 Guacamole is a spicy Mexican (or Tex-Mex) paste made from crushed avocado and various seasonings, usually onions, peppers, garlic and tomatoes. There are 105 guacamole recipes below where you can sample all varieties of this dish.
Guacamole is used as a condiment, an ingredient, and as an appetizer when served with tortilla chips. This appetizer is not considered healthy, but is fast and easy to prepare.
Guacamole is becoming more mainstream and increasingly popular as a party dip, for tailgating, BBQ, and other functions where chips and dips are common dishes.
This article uses content from recipes.wikia.com and is licensed under the Creative Commons Attribution-Share Alike License