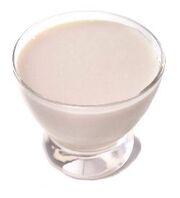 Evaporated milk was first thought of in 1852 by Gail Borden on a transatlantic trip. The cows on board were too sick to produce milk, this gave him the idea. Borden's first evaporated milk lasted three days before it spoiled. He received the patent in 1854, but the first successful production was not until 1855 by a competitor John Meyenberg.
Evaporated milk is fresh, homogenized milk from which 60 percent of the water has been removed. It is then chilled, fortified with vitamins and stabilizers, packaged, and finally sterilized. Standards require whole evaporated milk contain at least 7.9 percent milk fat and 25.5 percent milk solids. The high heat process gives it a bit of a caramelized flavor, and it is slightly darker in color than fresh milk. The evaporation process naturally concentrates the nutrients and the calories, so evaporated versions are more calorie filled and nutritious than their fresh counterparts. When mixed with an equal amount of water, it can be substituted for fresh milk in recipes.
By definition, evaporated milk in the U.S. is not sweetened. If sugar is added, it will be called condensed milk or sweetened condensed milk. This requires less processing since the added sugar inhibits bacterial growth. Evaporated milk is the only product from cows which has government regulations requiring vitamin A to be added.
Evaporated milk is made by heating fresh whole milk until 60% of the water evaporates. Unlike condensed milk which begins with pasteurized milk and is not heat processed, evaporated milk is sterilized through heat treatment and a vacuum process, making it more concentrated than whole milk. In this form, the milk will contain a higher fat and protein content that is twice the amount normally found in whole milk. Evaporated milk is processed into whole, lowfat or skim varieties, with each varying in the amount of fat contained in the product. The whole milk variety will contain approximately 8% fat, while the low fat version will have approximately 4% and the skim milk will contain only a ½%.
This article uses content from recipes.wikia.com and is licensed under the Creative Commons Attribution-Share Alike License