Ravioli of Swiss Chard and Ricotta with Smoked Garlic Foam
This dish is a clever way of looking like you have gone to the trouble of making your own pasta. Instead, the secret is to use wonton wrappers, which can be found in Asian supermarkets or on the internet. We have started to grow our own chard for the restaurant. You can also use golden or ruby chard or even baby spinach works very well.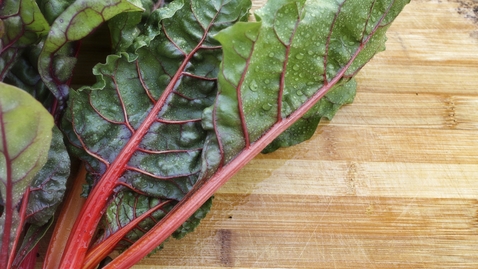 Ingredients
1

tblsp

rapeseed oil

1

small red onion, finely diced

2

garlic cloves, finely chopped

4

Swiss or Ruby chard leaves, tough stalks removed (if unavailable, use 100g (4oz) baby spinach leaves)
200g (7oz) ricotta cheese

1

tblsp

shredded fresh basil
Sea salt and freshly ground black pepper

40

wonton wrappers, thawed if frozen
1-2 tbsp plain flour, for dusting
Egg wash (made with 1 egg and 1 tbsp milk), for sealing
Smoked garlic foam (see link below), to serve
Fresh micro ruby chard, to garnish
Fresh wild rocket, to garnish

4

tblsp

toasted pine nuts, to garnish
25g (1oz) Parmesan cheese, pared into shavings, to garnish
Method
Heat the rapeseed oil in a pan over a medium heat and sauté the onion and garlic for about 5 minutes, until softened but not browned. Remove with a slotted spoon and set aside in a bowl. Add the chard and cook for 2-3 minutes, stirring regularly, until just wilted. Remove from the heat, drain and leave to cool completely.
Squeeze out any excess moisture from the chard mixture and then finely chop. Place in the bowl with the reserved onion and stir in the ricotta cheese and basil. Season to taste and mix well to combine.
Place 20 wonton wrappers on a lightly floured work surface and spoon 1 heaped teaspoon of the chard mixture into the centre of each one. Brush a little egg wash around the edges, then carefully cover with the remaining wonton wrappers, pressing gently to shape into ravioli. You can use a 6cm (2½in) fluted cutter to shape each ravioli if you like and discard the leftover scraps of wonton pastry.
To cook the ravioli, bring a large pan of salted water to the boil, then add the ravioli and cook for about 2 minutes, until just cooked through and floating at the top of the pan. Drain well on kitchen paper.
To serve, arrange 5 ravioli on each warmed plate. Spoon over the smoked garlic foam and garnish with the micro chard and wild rocket, then sprinkle the toasted pine nuts and Parmesan shavings on top.
Cook Ahead: The filling for the ravioli can be made up to 24 hours in advance and kept covered in the fridge until needed, but it's best to fill the ravioli just before serving.
Wine : A white Bordeaux Sauvignon/Semillon blend, like Graves, or a good-quality Italian Soave.
Notes: