Rhubarb and Strawberry Pudding
Depending on the time of year, you can vary the fruit, or try using a bag of mixed frozen summer berries. We occasionally make this in the restaurant for the kitchen staff for a special treat or in individual portions as part of a more complicated dessert plate.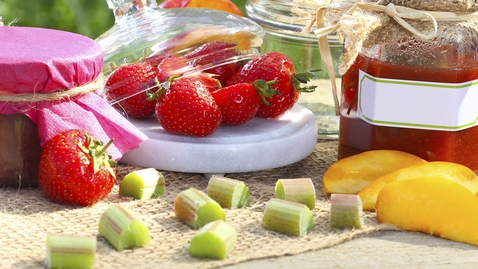 Ingredients
275g (10oz) fresh rhubarb stalks, trimmed and cut into chunks
225g (8oz) large strawberries, hulled and quartered
275g (10oz) caster sugar

1

piece of stem ginger, drained and finely chopped (optional)

1

tsp

baking powder
175g (6oz) plain flour
175g (6oz) butter, at room temperature

3

eggs

1

tsp

vanilla extract
Crème Anglaise (see link below), to serve
Method
Preheat the oven to 160°C (325°F/gas mark 3).
Arrange the rhubarb and strawberries in a large pie dish and sprinkle over 100g (4oz) of the sugar and the stem ginger, if using.
Sieve the flour into a bowl with the baking powder. Place the butter in a separate bowl with the remaining sugar and beat until light and fluffy. Beat in the eggs and vanilla extract, then fold in the sieved flour mixture.
Carefully spread the cake mixture over the fruit and bake for 45-50 minutes, until the sponge is well risen and golden and an inserted skewer comes out clean. Spoon into warmed serving bowls and pour over some crème anglaise to serve.
Cook Ahead: Prepare this pudding before your guests arrive and then leave at room temperature until needed. Flash in the oven to warm through to serve. However, as it only takes minutes to make, it's best prepared to order.
Notes: