Marinated Pork Fillet with Sausage Stuffing
This recipe is based on a dish that I was taught to cook in college. It's always been a favourite in our house and when I made it again recently, I was surprised at how good it was - I had forgotten. The meat really does need to be marinated overnight to achieve the best flavour.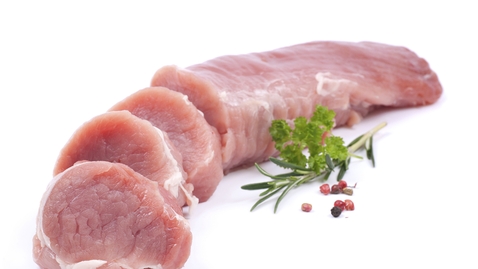 Ingredients
1

pork tenderloin (fillet), about 675g (1½lbs) in total
Freshly ground black pepper

2

garlic cloves, crushed

2

tblsp

light soy sauce

2

tblsp

rapeseed oil

1

tblsp

light muscovado sugar

2

tsp

freshly grated root ginger

1

tsp

mild curry powder
Good pinch of ground cinnamon
Sea salt and freshly ground black pepper
Buttered noodles with roasted peppers and coriander, to serve
Red wine sauce, to serve
For the Sausage Stuffing:
200g (7oz) good-quality sausage meat

1

egg

2

tblsp

Ballymaloe jalapeño relish

1

tblsp

chopped fresh basil, plus sprigs to garnish

2

tsp

snipped fresh chives
100ml (3½fl oz) cream

2

tblsp

toasted pine nuts
Method
Trim away any fat and membrane from the pork tenderloin and split it lengthways, without cutting right through. Open it out flat and season generously with pepper. Cover with clingfilm and flatten out the sides using a mallet, rolling pin or the base of a pan, being careful not to put any holes in the meat. Try to keep the shape as rectangular as possible with a thickness of no more than 1cm (½in).
To prepare the marinade, place the garlic, soy sauce, oil, sugar, ginger, curry powder and cinnamon in a shallow, non-metallic dish that's large enough to fit the pork tenderloin comfortably.
Stir until well combined and then add the pork fillet, turning to coat. Cover with clingfilm and chill for at least 4 hours, or up to 24 hours is great, to allow the flavours to penetrate the meat.
To make the stuffing, place the sausage meat in a food processor with the egg, relish, basil and chives. Blend until smooth and then slowly add the cream through the feeder tube. Season generously and then blend again for 2 minutes. Transfer to a bowl and mix in the toasted pinenuts, then cover with clingfilm and chill for at least 1 hour to firm up (or up to the same amount of time as the pork).
When ready to cook, preheat the oven to 200°C (400°F/gas mark 6).
Remove the marinated pork tenderloin from the fridge and place on a large sheet of tin foil.
Spoon the sausage meat down the centre of the pork, then using the tin foil, carefully roll the pork tenderloin over the sausage stuffing to enclose. Twist the ends of the foil tightly and place the pork on a large baking sheet lined with parchment paper. Roast for 50 minutes, turning occasionally, until cooked through and firm to the touch.
Remove the pork tenderloin parcel from the oven and leave to rest for 5 minutes, then carefully remove the tin foil. Slice the pork on a chopping board and carve into slices 1cm (½in) thick and arrange on plates on beds of the buttered noodles with roasted peppers and coriander. Drizzle around the red wine sauce and garnish with basil to serve.