Beef Kebabs, Yoghurt Dressing and Rice
A delicious combination of minced beef and spices.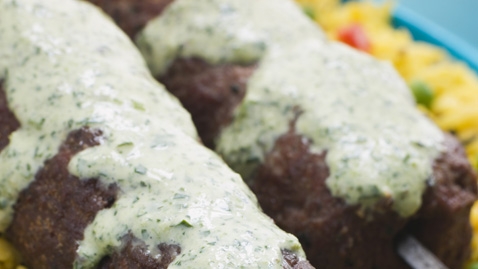 Ingredients
1.50

lb

minced beef

50

g

breadcrumbs

0.50

tsp

ground coriander
pinch turmeric

0.50

tsp

ground cumin

0.50

chopped red onion or 1 bunch spring onions

2

cloves of garlic (crushed)

1

egg

2

tblsp

natural yoghurt
chopped parsley/coriander (2 dessertspoons)
for the yoghurt dressing:

1

cucumber (chopped finely)

200

ml

natural yoghurt

1

dsp

freshly chopped mint

2

cloves crushed garlic
Method
Mix all ingredients together in a bowl until thoroughly combined.
Soak the wooden skewers if using.
Roll the Koftas into long cylindrical shapes and thread them onto your desired skewers.
It is best, where at all possible to refrigerate the mixture for at least an hour before cooking in an attempt to harden them up as if not they can have a tendency to break before cooking.
Brush the Koftas with oil before cooking and then cook in the oven for 12-14 minutes just to firm them up.
Grill under a hot grill until browned all over. Make sure they are fully cooked through to the centre.
For the Yoghurt Dressing:
Mix all together and serve, well chilled.
Serve with rice and a vegetable stir fry if desired.