The Kingdom of Lamb, Dauphinoise Potatoes, Garlic Spinach and Fresh Mint Sauce
Let the kitchen be your kingdom!, says Tom McGurk!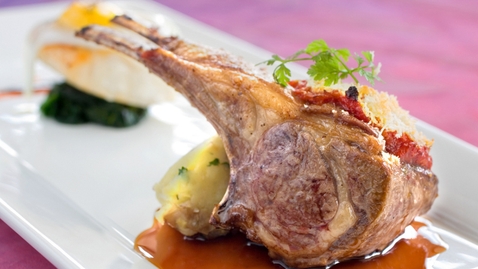 Ingredients
4

x 3 bone racks of lamb, french trimmed

200

g

fresh spinach
olive oil (for frying)
garlic cloves, finely chopped or crushed
For the herb crust
jar of dijon mustard

6

slices of bread (white sliced pan)

1

large bunch of mint

1

bunch of tarragon

1

bunch of flat leaf parsley
For the mint sauce
2

large handfuls of fresh mint leaves

2

tblsp

white wine vinegar

2

tblsp

apple juice

1

tblsp

caster sugar
Dauphinoise potatoes
750

g

potatoes, sliced thinly

750

ml

double cream

8

cloves garlic, peeled and crushed
freshly grated nutmeg
Method
For the lamb
In a hot pan, seal the racks quickly, remove from the heat and allow to cool.
Brush with Dijon mustard and dip in the herb crust*.
Place the racks on a roasting tray and roast in an oven preheated to 170°C for approximately 8-10 minutes. Then remove from the heat and let it rest in a warm place until ready to serve.
* Make the herb crust by blending all the herbs with roughly torn bread and seasoning.
For the spinach
Wash the spinach thoroughly and cram into a large pan.
Pour over a little boiling water, cover tightly and cook for 2-3 minutes, until the leaves have wilted.
Tip into a colander and drain well. In a saucepan, heat some oil, add the garlic and fry briefly, then stir in the spinach and stir until heated through.
Mint sauce
Mix together all the ingredients and bring to the boil, remove from heat and allow to cool. When cool, add chopped mint.
For the potatoes
For the potatoes, first put the garlic in a pan with the cream and a little nutmeg and bring to the boil. Strain out the garlic and season with salt and pepper.
Next peel and slice the potatoes. Arrange on a greased oven dish and season between each layer and coat with the garlic cream after each layer.
Cover and bake in the oven at 170°C for 30-40 minutes until tender.