Savoury Crepes Filled with Chinese Style Pork
A delicious starter or main, perfect for adding a little oriental flavour to a meal.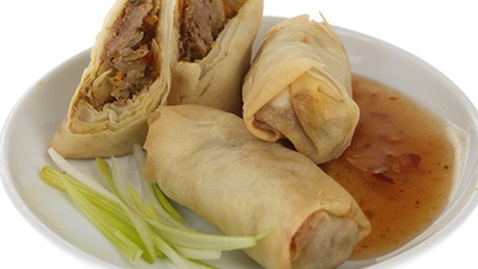 Ingredients
For the crepes
600

g

pork fillet

125

g

plain flour

2

cloves of garlic (crushed)

1

tsp

chilli oil
pinch of salt

250

ml

whole milk

1

tblsp

honey

1

tblsp

light soya sauce

1

oz

melted butter

1

tblsp

sunflower oil

2

large eggs
shredded cucumber, scallions and shredded lettuce to serve

1

tsp

chinese 5 spice

6

tsp

hoisin sauce
For the Chinese-style pork filling:
Method
For the Crepes:
Sieve the flour and salt into a large bowl and make a well in the centre.
Whisk the milk and eggs together and pour into the flour and whisk until smooth.
Add the melted butter and whisk again.
Allow to rest for ½ hour.
Lightly grease and heat a crepe pan and add enough batter to coat the base of the pan, swirl to spread the mixture around the base.
Cook over a medium heat for 1 minute until the underneath is golden, then turn over and cook for a further 20 seconds.
For the Chinese Style Pork Filling:
Slice the pork very thinly.
Mix the garlic, Chinese 5 spice powder and chilli oil and pour over the meat and allow to marinate for 2 hours.
Mix the Hoisin sauce, light soya sauce, and honey together.
Heat 1 tablespoon sunflower oil in a wok or large frying pan.
Fry the meat - do this in two batches.
When all the meat is cooked, return to wok/frying pan.
Add the Hoisin mixture to the pan and mix well.
Cook until sauce coats the meat.
To Serve:
Put some shredded cucumber, scallions and lettuce into the middle of the pancake. Top with some of the pork filling and fold into a parcel.