Passion Fruit Panna Cotta
Served with Poached Autumn Berries. Panna cotta is a set Italian cream that is a cross between a mousse and a crème brûlée (but without the crunchy topping). What makes this version a little different is the addition of coconut milk, which gives them a truly exotic flavour.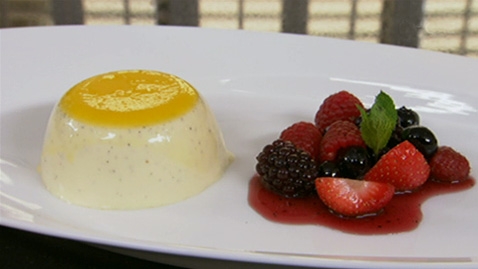 Ingredients
for the panna cotta mixture:

4

gelatine leaves

500

ml

double cream

100

ml

coconut milk

100

g

caster sugar
seeds scraped from 1 vanilla pod
for the passion fruit jelly:

2

gelatine leaves

150

ml

freshly squeezed orange juice

3

passion fruits (cut in half and seeds removed)

25

g

caster sugar
for the poached berries:

3

tblsp

red wine

2

tblsp

crème de cassis

50

g

caster sugar

1

cinnamon stick

1

whole star anise
seeds scraped from ½ vanilla pod

0.25

tsp

freshly grated root ginger

100

g

mixed autumn berries (such as blackberries, blueberries, tayberries and redcurrants)
mint sprigs (to decorate)
Method
To make the panna cotta, put the gelatine leaves in a bowl of cold water and leave to soak for 10 minutes. Put the cream, coconut milk, sugar and scraped-out vanilla seeds into a small saucepan and slowly bring to the boil. Take the saucepan off the heat, gently squeeze the soaked gelatine leaves dry and add them to the pan, whisking continuously until they have dissolved. Strain the mixture through a sieve into a measuring jug. Allow to cool completely - this will take about 1 ½ hours.
To make the passion fruit jelly, place the gelatine leaves in a small bowl and pour over enough cold water to cover. Set aside for 10 minutes, then squeeze out the excess water. Place the orange juice, passion fruit seeds and sugar in a saucepan. Bring to the boil and then stir in the squeezed-out gelatine. Stir well to combine and then allow to cool a little. Strain through a fine sieve.
Divide the cooled passion fruit jelly between six 150ml (¼ pint) dariole moulds or ramekins. Place on a baking sheet, cover with cling film and leave to set in the fridge for at least 1 hour.
Once the panna cotta mixture is cool, give it a good stir to disperse the vanilla seeds, then divide the mixture equally between the moulds and leave them to set again in the fridge for at least 3 hours, or for up to 2 days.
Meanwhile, prepare the poached berries. Place the red wine, crème de cassis, sugar, cinnamon, star anise and vanilla seeds in a small saucepan with a lid.
Stir in 50ml (2fl oz) of cold water and bring to the boil. Turn down the heat and simmer for 10-15 minutes until well reduced and syrup-like. Stir in the ginger and berries. Cover the pan with the lid, remove from the heat and allow the berries and syrup to cool completely. This should take about an hour.
To serve, unmould the panna cotta by dipping very briefly into hot water, then place a plate face down on top of each mould and invert, allowing them to drop out on their own. Spoon some poached fruits around the edge and decorate with the mint sprigs to serve.