Crispy Duck with Mandarin and Red Onion Sauce
Tommy Bowe serves up a delightful main course on The Restaurant.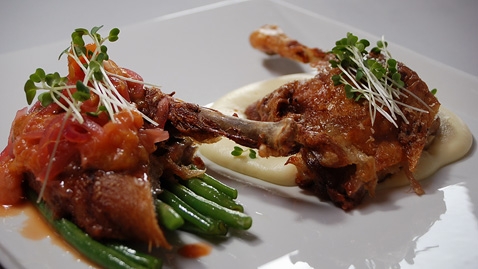 Ingredients
0.50

a duck (pre-cooked)

850

g

potatoes (peeled and cut)

30

g

butter

500

g

french beans salt and black pepper

15

g

butter
for the sauce:

1

red onion (peeled and chopped)

50

g

brown sugar

3

g

mandarins (peeled and segmented)

50

ml

sweet sherry
Method
Pre-heat oven to 130ºC.
Sprinkle salt over the duck and roast in the pre-heated oven for 40 minutes. Increase the heat to 180º for the last 15 minutes to crisp up the skin.
Place the butter in a hot pan and add the onion, sauté until the onions are soft but not browned. Add the brown sugar and then the mandarin segments. Gradually add the sweet sherry and simmer until the sauce thickens and becomes syrupy.
Place the potatoes in a pot of cold salted water and bring to the boil, simmer for 10-15 minutes until soft then strain. Mash the potatoes and cream with butter to make a fine mash, season to taste. Place the green beans in some cold water with some salt. Bring to the boil and simmer until tender, then strain.
Cut the duck in half, place some mash on a plate and put one piece of duck on top. Put some green beans alongside and place the other piece of duck on that. Garnish with some of the sauce.