Butterflied Leg of Lamb with Lemon, Rosemary and Garlic
This butterflied leg of lamb is the perfect choice for the barbecue but also works wonderfully in the oven. It would also be nice served with a pile of warmed pitta breads or flour tortillas and a mixed salad in the centre of the table so everyone can help themselves.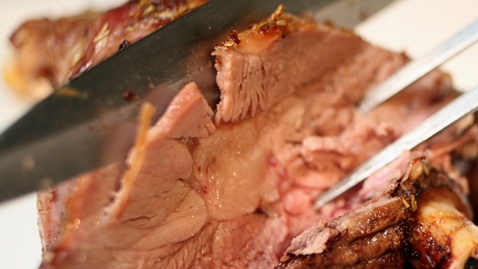 Ingredients
2.50

kg

leg of lamb (boned and trimmed, roughly 4-5cm thick)

3

tblsp

extra-virgin olive oil

1

lemon

2

fresh rosemary stalks (leaves stripped)

3

large garlic cloves (cut into slivers)
roast baby new potatoes and dressed mixed salad leaves, to serve
maldon sea salt and freshly ground black pepper
Method
Place the lamb in a large non-metallic dish and drizzle the olive oil over, then pare (with a vegetable peeler) the lemon rind on top. Scatter over the rosemary and garlic slivers. Season generously and turn over a couple of times until the marinade ingredients are evenly distributed. Cover with clingfilm and set aside for 2 hours to allow the flavours to combine or overnight in the fridge is even better.
Light a barbecue or preheat the oven to 220°C (450°F/Gas 7). If the lamb has been chilled overnight, bring it back to room temperature. If cooking it in the oven place it, skin-side up, on a rack in a large roasting tin and season with salt. Roast the lamb for 20 minutes, then turn it over and roast for another 15 minutes for medium rare. Alternatively barbecue the lamb for about 40 minutes for medium rare, skin-side down, turning occasionally.
When the lamb is cooked, transfer to a warm dish, then leave to rest in a warm place for 10 minutes. If you don't like your lamb too pink you can cover it with foil at this point and it will continue to cook as the juices relax. Carve into slices and arrange on plates. Serve with roast baby new potatoes and dressed mixed salad leaves.