Slow roasted lamb shoulder with baba ganoush in pitta
One of the Blue Team's recipes from the Croke Park challenge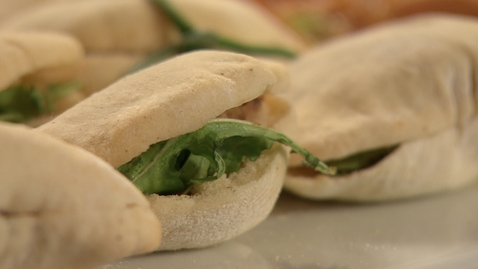 Ingredients
450 g diced shoulder of lamb
40 ml olive oil
2 cloves of garlic, crushed
1 tsp crushed dried chillis
2 tsp ground cumin
1 tsp ground coriander
1 tblsp olive oil
1 tblsp runny honey
1 large natural yoghurt
500ml chicken stock
pitta pockets (see recipe below)
baba ganoush (see recipe below)
rocket leaves, washed
For the pitta:
1 kg strong flour
25g fresh yeast
5g ground white pepper
7g salt
1 tsp caster sugar
560ml warm water
For the baba ganoush:
3 medium aubergines
130g tahini paste
juice of one lemon
3 cloves of garlic, finely chopped
pinch of cayenne
Method
Mix the garlic, chillis, spices, honey and yoghurt together to form a marinade. Toss the lamb in marinade, set aside for about an hour if have the time.
Brown the meat in an ovenproof dish or pot, add in the stock, bring up to a simmer, cover with a lid and bake in an 160c oven for 1-11/2 hours or until falling apart.
For the pitta:
Dissolve the yeast in the water. Put the dry ingredients into the bowl of a food mixer w the dough attachment in place, add the liquid and mix until you have a smooth dough. Leave to rest for 1hour or longer.
Roll into marble sized balls and then flatten with a rolling pin. Bake at 220c on metal trays until they are puffed up and golden. Split and fill immediately or leave to cool and warm up just before serving.
Pre-heat the oven to 190c.
Roast the whole aubergines for 30-40 minutes or until they are completely soft. Leave to cool. Split them in two lengthways and scoop out the pulp. Puree in a food processor with the other ingredients until smooth. Season to taste
To serve - Split open the warm pitta pocket, spread with a teaspoon of baba ganoush,stuff w some leaves of rocket, a cube or two of lamb.