Barramundi, Avocado, Apple and Celeriac Remoulade, and a Lemon Vinaigrette
David Gillick serves up this tasty main on Celebrity MasterChef Ireland.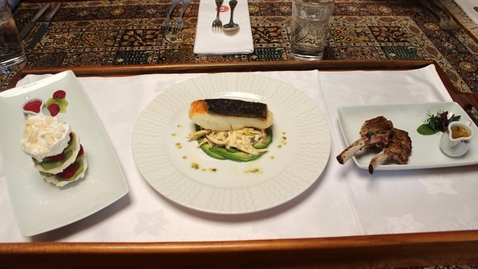 Ingredients
2 x 170g barramundi (if you cannot get these, please buy halibut fillets)
1 avocado
remoulade:
1 celeriac
2 sweet crunchy eating apples
1 jar of capers
2 small gherkins
1 spanish onion
2 tomatoes
bunch of dill
bunch of parsley
mayonaisse for remoulade:
2 egg yolks
1 tsp dijon mustard
600 ml sunflower oil
juice of 1 lemon
dressing for remoulade:
wholegrain mustard
dijon mustard
mayonaisse (recipe above)
salt
white wine vinegar
sugar
lemon vinagrette:
4 lemons
bunch of thyme
small tub of preserved lemon
extra virgin olive oil
Method
For the mayonnaise, place egg yolks in a glass bowl and set on a damp cloth to steady it.
Add the mustard, pinch of salt and tsp of the lemon juice and whisk together. With the oil in a jug, slowly add drop by drop whisking continuously. Keep adding drops making sure each drop is incorporated before adding the next. When half the oil has been used you can add in a thin steady stream to speed up the process.
Season with salt and ground white pepper and add the rest of the lemon juice to taste. If the mayonnaise is a little too thick thin with a little warm water.
Using ingredients for the Remoulade, cut up ¼ Celeriac (Julienned), 1 Apple (Julienned), 1tbsp Capers, 2 small gherkins (Julienned), 1 small spanish onion (Julienned), 2 tomatoes (Julienned), ¼ bunch of dill and ¼ bunch of parsley and mix together in a bowl.
Add to the mixture the ingredients for the Dressing as follows; 1 tbsp wholegrain mustard, 1 tbsp Dijon mustard, 1 cup of Aioli, 1 tsp White wine vinegar. Add pinch of salt and sugar to taste.
Pan fry the fish, skin down, for 3 minutes. Put in the oven for 10 minutes at 180 degrees.
Assemble dish.
Notes:
Equipment: 3 mixing bowls, Metal whisk, Jug, Frying pan