Créme Chiboust Pistachio
The MasterChef Ireland contestants undertake the Emirates challenge to make Créme Chiboust Pistachio.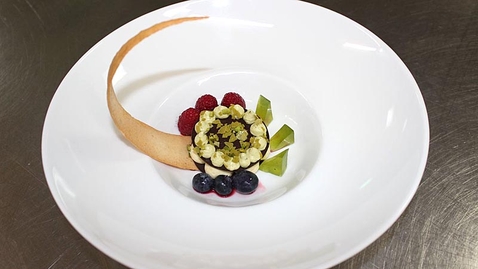 Ingredients
créme patissiere:
6 egg yolks
100 g sugar
40 g all-purpose flour
500 m full cream milk
1 no vanilla bean
50 g pistachio paste
30 g pistachio powder
italian meringue:
3 nos egg whites
130 g sugar
80 g water
Method
Crème Patissiere: In a large bowl beat together egg yolks and part of the sugar until a pale and smooth consistency. Sift into the mixture the all- purpose flour.
In a pot heat the milk, vanilla bean, pistachio paste just to the boil and turn heat on low.
Pour swiftly a small quantity of the hot liquid into the egg milk, while stirring vigorously to avoid the scrambling of the eggs.
Pour back the same mixture into the pot and combine with the remaining milk and stir continuously.
Stir until the crème patissiere cooks and thickens.
Remove from the heat and allow to cool.
Italian Meringue: Put sugar, glucose and water in pot and allow to boil until it reaches
110 degrees Celsius. Just before the sugar reaches the temperature in a mixer whip the egg whites until they form soft peaks
Pour slowly the sugar syrup into the egg whites to form the meringue base.
Stir in gently the Meringue into the cooled crème patissiere.
Fold in the fine pistachio powder.