Pigeon Confit, Celeriac & Sweet Potato Flan
The MasterChef Ireland are set this Emirates challenge to create Pigeon Confit, Celeriac & Sweet Potato Flan, Layered Zucchini & Tomato Gratin, Pomegranate Seed Jus.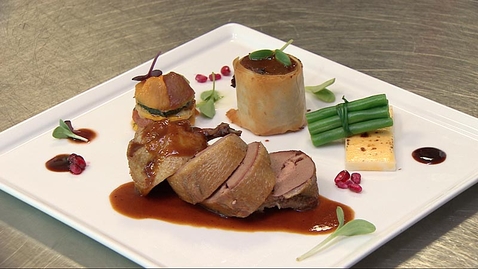 Ingredients
pigeon confit:
0.80 kg pigeon breast and legs (boneless)
30 g kosher/sea salt
5 g black pepper corns
20 g garlic crushed
5 g bay leaf
5 g thyme
1.2kg duck fat
pigeon leg confit (yields 8 portions):
250 g pigeon legs confit shredded
20 g shallots brunoise sautéed
20 g celeriac brunoise steamed
20 g sweet potato brunoise steamed
40 g veal jus
3 g chopped parsley
celery root and sweet potato flan (yields 16 portions):
300 g celeriac
400 g sweet potato
100 g rice flour
500 ml orange juice
4 large eggs
5 g mustard seeds
10 g salt kosher
20 g butter
300 g heavy cream
gratin of zucchini and tomato petals (yields 8 portions):
500 g zucchini sliced
400 g roma tomato petals (no skin)
115 g olive oil
12 g rosemary chopped
95 g bread crumbs
8 g kosher salt
6 g white pepper ground
75 g parmesan cheese shredded
pigeon jus (yields 8 portions):
1 kg veal jus
400 g pigeon bones and carcass
1 l pomegranate juice
80 g butter whole
Method
Pigeon Confit: Note: The exact weight of the finished confit can vary considerably.
Rub the pigeon pieces with the salt and spices. Refrigerate overnight.
Render the trimmed fat plus as much extra fat as needed. You will need enough rendered fat to completely cover the pigeon pieces.
Put the pigeon and the rendered fat in a brazier, large saucepan, or casserole. Simmer gently in the fat over low heat or in a 300°F (150°C) oven until very tender, 4 hours.
Remove the cooked pigeon from the fat and pack into a clean crock or other container. Pour the melted fat over the meat so it is completely covered, but be careful not to pour in any of the juices. Refrigerate. (The degreased juices may be used for another purpose, such as cooking beans.)
Remove pigeon pieces and use as needed.
Leg Confit: In a pan heat the veal jus until warm. Add all ingredients in the same sequence as above and fold together form the desired portion in the appropriate mould and serve
Celery Root and Sweet potato Flan: Grind the mustard seeds in a pestle and mortar.
Grate the celeriac and sweet potato into a large bowl, add the orange juice - to flavour to prevent discoloration.
Mix in the eggs, Cream and the mustard, the rice flour and black pepper.
Place 60 gms of mix in a well-greased mould and bake in a 350F oven until the flan has set and is turning golden underneath flip and continue cooking
Gratin of Zucchini and Tomato Petals: Combine Bread Crumbs and Parmesan Cheese. Wash the vegetables, dry and cut the Zucchini into slices about 1/8-inch thick without peeling.
Make Tomato petals after blanching the tomatoes. On bottom of gratin dish place these slices in by rows of vegetables, or alternating. Sprinkle with salt, pepper, Rosemary, and Thyme.
Drizzle Olive Oil over the vegetables.
Top with Bread Crumb/Parmesan mixture.
Bake in top portion of a 375F preheated oven for about 35 minutes. Place under a broiler if more colour is needed
Pigeon Jus: Roast Pigeon Bones until well browned in a medium oven for 2 hours
In a heavy bottom pot, place the roasted bones, Veal Jus and Pomegranate juice. Simmer for 2 hours until reduced to 1/3
Strain 3 times through a fine sieve
Mount with Butter.
Notes:
Plated Recipe: Pigeon Confit, Celeriac & Sweet Potato Flan, Layered Zucchini & Tomato Gratin, Pomegranate Seed Jus (Yields 1 Portion) (1 Each) Pigeon Confit Breast 45 gms Pigeon Confit Leg Shredded and formed (1 each) Celeriac and Sweet Potato Flan 80gms Gratin Nimois 20 gms Pigeon Jus (5 Each) Pomegranate Seeds 10 gms Pomegranate Molasses 1 gms Micro herbs