Prosecco and Crème de Casis Poached Pears
Journalist Conor Pope serves up a delicious dessert of Prosecco and Crème de Casis poached pears with lavender & blackberries, Crème Anglaise and a shortbread on Celebrity MasterChef Ireland.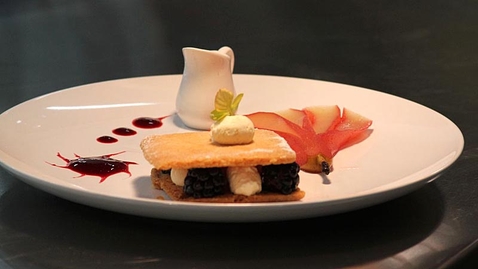 Ingredients
2 big pears cored & peeled
3 tblsp sugar
2 large glasses of prosecco
1/2 cup creme de cassis
bunch of lavender
crème anglaise:
6 free-range
egg yolks
65 g caster sugar
2 vanilla pods
500ml whole milk
shortbread:
125 g butter
55 g caster sugar
180 g plain flour
Method
Peel & core pears but don't remove the stem. In a medium saucepan, pour the prosecco. When it starts to boil, add the sugar & Creme de Cassis. Simmer.
Add the pears by placing them flat on the saucepan, submerged in the liquid.
Cook for about 5 minutes then add the fresh lavender leaving some for later.
Cook until pears are tender.
Remove the pears when tender and move to one side.
Add the remaining lavender in the liquid and cook it longer until thick.
Pour on top of the pears.
Crème Anglaise: Split vanilla pods lengthwise, seeds scraped out.
Beat the egg yolks and sugar together in a bowl.
Bring the milk and cream to boiling point in a saucepan. Add vanilla seeds and pods to the milk and cream.
Pour the boiling milk and cream over the egg mixture, mix well and return to the pan.
Cook over a very gentle heat until the mixture thickens, stirring regularly with a wooden spoon. Sieve.
Shortbread: Heat the oven to 190C. Beat the butter and sugar together until smooth
Stir in the flour to get a smooth paste. Turn out onto a work surface and roll out to 1cm thick.
Using a rectangular or circular cutter, cut out the shortbread to desired shape and size.
Bake in the oven for 15-20 minutes or until pale golden brown in colour.
Assemble dish.