Sticky Toffee Pudding
Yvonne Keating's serves up Sticky Toffee Pudding with dark treacle and Bourbon sauce served with ginger and lemon ice cream on Celebrity MasterChef Ireland.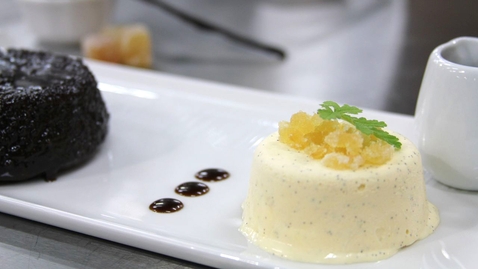 Ingredients
toffee puddings:
25 g butter, plus extra for greasing
85 g demerara sugar
2 tblsp golden syrup
1 egg
1 tblsp black treacle
100 g self raising flour plus extra for flouring
100 g pitted dates
145 ml boiling water
1/2 tsp bicarbonate of soda
1/2 tsp vanilla extract
sauce:
110 ml double cream
55 g butter, diced
55 g dark muscovado sugar
2 tblsp black treacle
1 tblsp golden syrup
10 ml bourbon
ice cream:
4 egg yolks
35 g castor sugar
250 g double cream
juice of one lemon
seeds of one vanilla pod
50 g crystallised ginger
to decorate:
5 raspberries
5 pecan nuts
5 dates
sprig of mint
Method
Preheat the oven to 200 degrees. Grease and flour 3 individual pudding/dariole moulds.
Cream the butter and sugar together in a food processor until pale and fluffy. Add the golden syrup, treacle and eggs, a little at a time, and blend until smooth. Add the flour and blend, at a low speed, until well combined. Transfer to a bowl.
Meanwhile, blend the dates and boiling water in a food processor to a smooth purée.
Stir in the bicarbonate of soda and vanilla.
Pour the date mixture into the pudding batter and stir until well combined.
Pour the mixture into the moulds and bake for 15 minutes, or until the top is springy and golden-brown.
Sauce: Heat all the ingredients in a pan, stirring occasionally, till boiling. Set aside
Ice-cream: Heat the double cream, vanilla and crystallised ginger in a saucepan
Remove from the heat before it boils and sieve into a bowl.
Beat the sugar, egg yolks, and lemon juice in a food mixer.
Pass through a sieve and stir into the cream mixture and heat gently.
Pour into the ice cream container and place in the freezer for 5 mins.
Churn in the ice cream maker for 40 mins. Freeze.
To serve: Serve individual toffee puddings accompanied by a scoop of ice cream. Pour the sauce over the pudding. Decorate and garnish with the raspberries, dates, pecans, and a sprig of mint.
Notes:
Equipment needed - 3 pudding bowls or large muffin tray, measuring spoons , food processor, 2 small saucepans, 3 small mixing bowls, spatula, sieve, kettle, chopping board,? baking tray, measuring jug ,knives/general utensils /spoons, potato peeler, funnel, cappuccino frother, kitchen roll, greaseproof paper, clingfilm, tinfoil