Organic Salmon on a bed of parsley and crab
Conor Pope serves up organic salmon on a bed of parsley and crab infused crushed potatoes served with a chilli, mango, papaya and lime salsa & accompanied by purple sprouting broccoli in garlic butter on Celebrity MasterChef Irealnd.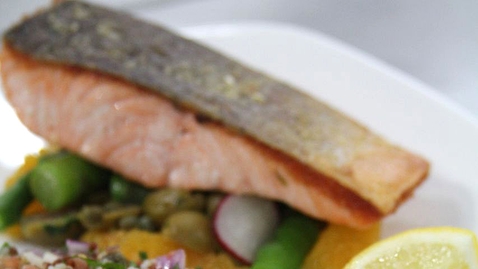 Ingredients
1 kg new potatoes
3 scallions
200 g crab meat
one red chilli
handful of flat leaf parsley
100 g olive oil
200 g butter
clove of garlic
500 g purple sprouting broccoli
2 250 g organic salmon fillets
handful of fresh basil
two limes
one mango
one papaya
50 g castor sugar
honey
handful of coriander
Method
Potatoes: Boil the potatoes in salted water until tender. Heat olive oil and 50g butter in a large sauce pan. Add boiled, peeled, potatoes and warm. Remove from heat, and crush.
Add chopped scallions, half of one chilli and parsley. Season with salt and pepper.
Add crab meat and mix.
Salmon: Score salmon, season and fleck with freshly chopped basil. Sear in a hot pan, skin down for 8 minutes or until cooked.
For the broccoli in garlic butter: Crush the garlic and mash into the butter. Blanch the broccoli and toss in garlic butter.
For the salsa: Rougly chop half a mango and half a papaya. Add lime zest half of one chilli and juice of both limes, mix in castor sugar and honey.
To plate up: Spoon the potatoes into a circular serving ring. Remove the ring to leave a neat pile of potatoes and place the salmon on top. Serve the broccoli and salsa on the side.