Pan Seared Sea Bass
Kamal Ibrahim serves up pan seared sea bass with sautéed, lightly spiced baby potatoes served with grilled asparagus and tomato & chive hollandaise sauce on Celebrity MasterChef Ireland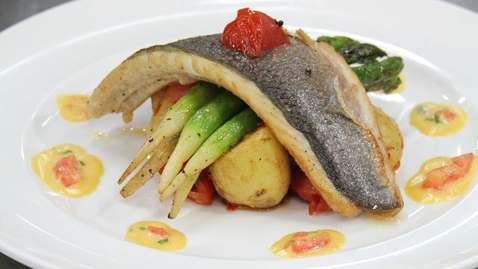 Ingredients
2 large eggs or 3 medium eggs
4 oz butter (with a little extra on the side; 1-2oz)
1 dessert spoon white wine vinegar
fresh black pepper
fresh salt (sea salt is good)
2 fillets of seabass
300 g baby potatoes (same size if possible)
cherry tomatoes x 6
1 small bunch of chives
2 large tomatoes
2 banana shallots
3 pieces of fresh red chill
sunflower oil
olive oil,
ice for blanching
2 lemons
6 pieces of asparagus
Method
Boil potatoes in salted water for 15 – 20 mins.
Season the sea bass fillets with with lemon juice, salt & pepper.
Drain potatoes & season with salt and pepper, sunflower oil & chilli.
Place the Asparagus in boiling water for a couple of minutes and remove to iced water.
Place to one side.
Put potatoes and pieces of chilli into a pre-heated the oven on a pre heated baking tray (preheated to 200C) for 3-4 mins. When they are done, roughly crush.
Grill the blanched Asparagus.
Pan fry Sea Bass for 20 – 30 seconds on each side on a hot pan with sunflower oil
For the Hollandaise sauce: Blend 2 large egg yolks well in a heatproof bowl with salt.
In a saucepan, mix 1 dessert spoon of lemon juice, 1 dessert spoon of white wine vinegar. and the shallots and reduce by two thirds over a high heat.
Strain the mixture into the egg yolks.