Mini Asian Street Food Buffet
Maia Dunphy serves up Pad Thai Noodles, Chicken Satay and Pork and Ginger Wontons on Celebrity MasterChef Ireland.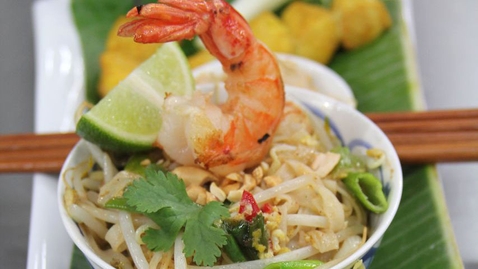 Ingredients
satay chicken:
1 large chicken breast
1 lemongrass stick
1 clove garlic
vegetable oil
0.50 tsp turmeric
1 tsp cumin
3 tblsp dark soy
small bamboo skewers (6 inch)
satay sauce:
mug full of peanuts, roasted
75 ml cup water
75 ml coconut milk
1 cloves garlic, minced
1/2 tsp. dark soy sauce
2 tblsp brown sugar
2 tsp sesame oil
1 tbsp.
fish sauce:
1/2 tsp tamarind paste
1 tsp thai chili sauce
wontons:
200 g pork mince
1 clove garlic
sesame oil
thumb size piece of ginger
soy sauce
white pepper
wonton wrappers (available in asian markets from the freezer)
small bamboo steamer
chives
banana leaf
dipping sauce:
4 tblsp soy
large piece ginger
50 ml rice vinegar
3 tblsp honey
1 spring onion
pad thai noodles:
small bag thai rice noodles (about linguini width)
6 - 8 large raw prawns, tail on
1 tblsp soy sauce
4 spring onions
3-4 cloves garlic, minced
2 tsp grated ginger
1 fresh red chilli
1 egg
2 - 3 cups bean sprouts
handful fresh coriander
handful peanuts, chopped
2 - 3 tbsp vegetable oil for stir-frying
lime wedges for serving
pad thai sauce
2 tblsp tamarind paste
100 ml chicken stock
3 tblsp fish sauce
1 tblsp soy sauce
0.50 to 1 tbsp chili sauce
pinch ground white pepper
4 tblsp brown sugar
Method
Satay: Soak bamboo skewers. Marinade chicken pieces in ingredients and leave aside.
Blend satay sauce ingredients together. At the last possible minute, thread chicken pieces onto skewers and grill Wontons.
Mix mince with other ingredients. Keep wonton wrapper under damp tea towel. Assemble wontons and keep under towel. Tie chives around. Mix dipping sauce ingredients together
Steam wontons in bamboo steamer for 15 mins.
Noodles: Pour boiling water over noodles soak 3-4 minutes. Drain and rinse thoroughly with cold water. Set aside. Combine all Pad Thai sauce ingredients in small bowl.
2 Tbsp oil in wok and swirl around, then add the white parts of the onion, plus garlic, ginger, and chili. Stir-fry 1 for minute.
Chop up prawns, save one whole prawn for garnish. Add chopped prawns (cook garnish prawn and take it out). Push ingredients aside, add beaten egg. Scramble and mix in.
Add the noodles and drizzle over sauce in bits, for 5 mins.
Fold in beansprouts. Put into rice bowl and garnish with green onion, nuts, and coriander, with lime wedge and reserved prawn.
Plating up: Serve all three dishes on a banana leaf, wontons still in steamers, noodles in bowl, Satay on the leaf, and 2 sauces in Asian sauce dish.