Lemon Sole with spring vegetables in a Bercy sauce
Tracy Piggott offers up lemon sole with spring vegetables in a Bercy sauce accompanied by new potatoes and parsley butter on Celebrity MasterChef Ireland.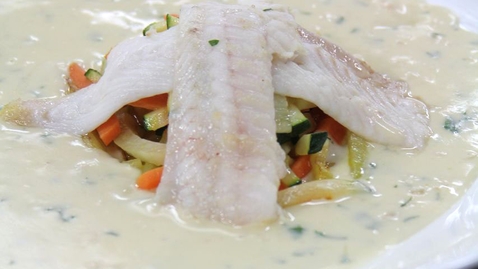 Ingredients
lemon sole:
4 skinned fillets
4 oz butter
olive oil
julienne vegetables
3 carrots
2 courgettes
2 fennel bulb
bercy sauce:
0.25 cup white wine
2 tblsp chopped shallots
1 tblsp butter
1 tblsp chopped parsley
lemon juice to taste
1pt fish veloute (see below)
fish veloute:
4 oz flour
4 oz butter
1pt good quality fish stock
potatoes:
1.20 lb baby new potatoes
2 lemons
1 bunch of parsley
4 oz butter
Method
For the Veloute (makes 1 pint): Make a roux. Melt the butter, add the flour. Cook on a low heat for 2 minutes, stirring occasionally.
Bring the fish stock to the boil, gradually whisk in the roux, add in the white wine and bring back to the boil while continuing to whisk.
Season with salt, pepper and lemon juice and simmer for 10 minutes.
For the Bercy Sauce (makes 1 pint): In a heavy-bottomed saucepan, combine the wine and shallots. Heat until the liquid boils, lower the heat a bit and continue simmering until the liquid has reduced by a little more than half.
Add the velouté (as outlined above), then lower heat to a simmer and reduce for about 5 minutes.
Stir in the butter and chopped parsley. Season to taste with lemon juice and serve right away.
Potatoes: Steam the potatoes in a steamer for 15 minutes. Add finely chopped parsley and lemon zest to the softened butter to make the parsley
butter. Set aside.
Vegetables: Finely and uniformly slice the carrots, courgettes and fennel. Sauté the julienned vegetables in butter and a little of the fish stock until tender.
Fish: Melt butter in pan, cook the sole for approx 8 minutes, turning once, until golden on both sides. Leave to rest for 30 seconds and season well with salt, pepper and lemon juice.
To plate: Place the fish on top of the sautéed Julienne vegetables. Pour some of the Bercy sauce over the fish. Place the potatoes in separate dish with the parsley butter.