Chocolate hazelnut parfait with orange tapioca
Served with a lychee and rose water sorbet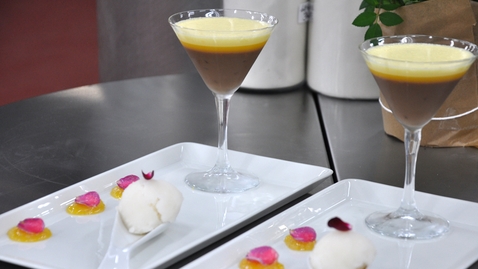 Ingredients
Chocolate hazelnut parfait
100 g good quality milk chocolate about 30% cocoa solids
30 g roasted chopped hazelnuts
1 tblsp icing sugar
100 double cream
1 tblsp rum
For the sabayon
2 egg yolks
30 g caster sugar
1 tblsp water
zest and juice of 2 lemon
Orange tapioca
60 g tapioca
300 ml freshly squeeze orange juice (no bits)
50 g caster sugar
2 tblsp grand marnier
Sorbet
3 cans lychees in syrup
50 g caster sugar
2 egg whites
2 tblsp rose water
zest from 2 limes, juice from 1
crystallised rose petals
rose petals different colors and borage for garnish
1 egg white
caster sugar
Hazelnut tuiles
250 g fondant
30 g glucose
50 g toasted hazelnut (split into a serving of 30g and 20g)
Method
For the chocolate
Put the chocolate, hazelnuts, icing sugar, cream and rum into a heatproof bowl. Set over a pan of gently simmering water until the chocolate has melted, stirring occasionally. Remove and stir well until smooth and creamy. Leave to cool to room temperature.
Give the chocolate mixture a stir, then spoon into the serving glass. level the mixture, then put in the freezer (or blast chiller if available).
For the sabayon
In a heatproof bowl whisk the egg yolks, sugar and a tablespoon of water together over a pan of simmering water until thickened and frothy.
Remove from the heat and whisk in the lemon zest and juice. Whisk until cool, pour over the set chocolate chill before serve.
Sorbet and finishing
Drain the syrup from two cans of lychees into a small pan. Add the sugar and dissolve over a gentle heat. Bring to the boil for 1 min, add in rose water and lime juice
Process the fruit and some syrup in a liquidizer until smooth. Add the egg whites and blitz again. Strain through a sieve into a bowl.
Pour into an ice cream maker and churn until frozen - about 20 minutes. Pour into container keep in the freezer. Remove from the freezer 10 minutes before serving, this softens the texture.
To make rose petals crystallize, brush them with egg white sprinkle with sugar and dry them in low heat oven. Keep for garnish.
To make tuiles, place glucose and fondant in saucepan on medium heat until it becomes caramelized. Add hazelnut and pour onto silicon sheet to cool. Once cool, blitz in thermomix to form fine dust. Sieve with small tea strainer onto parchment-covered tray. Sprinkle with crushed hazelnut and place in oven, until start caramelize again remove from oven and pull pieces leave on the side.
Mix tapioca, sugar and orange juice in the saucepan cook over medium heat stirring occasionally especially toward the end to prevent sticking.