Tea smoked duck breast with baby beetroot
Served with french beans, walnut and saffron potato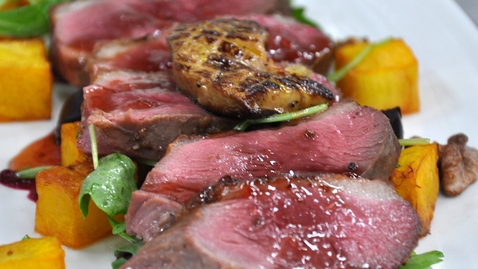 Ingredients
2 magret duck breasts
1 kg baby beetroot
300 g french beans
100 g walnut
1 block parmesan
200 ml beetroot juice
2 lemon
1 bulb garlic
3 sprigs thyme
olive oil
2 tblsp honey
2 tblsp white wine vinegar
2 tblsp port ruby
handful rocket leaves, purple endive and pea shoots for garnish
Smoking ingredients
1 cup jasmine tea leaves
3 tblsp muscovado sugar
1 cup rice
For rub mix
2 star anises
5 cardamoms
1 tblsp fennel seeds
1 tsp white peppercorns
1 tblsp coriander seeds
600 ml vegetable stock
large pinch of saffron strands
2 large waxy potatoes
1 cup duck fat
2 pieces of foie gras
1 cup sherry vinegar
For vinaigrette
2 tblsp white wine vinegar
1 tsp dijon mustard
4 tblsp olive oil
3 tblsp redcurrant jelly
Method
Drizzle beetroot with olive oil, add garlic, thyme, salt, pepper, wrap beetroot with foil and bake in oven for 45 minutes, then peel off the skin use half for puree, half for salad (dress with a bit of honey and red wine vinegar)
In bottom part of a steamer, line with foil and lay with all ingredients for smoking.
Lightly toasted the rub in the pan, then grind them to powder, score duck skin with sharp knife, rub spice powder on the duck breasts, season with salt and pepper. Smoke skin side down for 5-7 minutes. Then rest.
Cut potato into cubes, boil in stock with saffron strands until slightly tender, drain and roast with duck fat in the oven at 180 for 20-30 minutes or until golden.
Cut half of the baked beetroot into small chunks cook in the pot with a splash of port ruby, reduce it down, tip into thermomix (or blender) & blend to smooth puree if too thick add small amount of beetroot juice. Transfer into sauce bottle.
Blanch French beans in salted boiling water then transfer into a bowl of iced-water. Drain and before serving dress with vinaigrette
Cook duck breast on the pan start skin side down on cold pan when skin crisp and golden turn to cook the other side. Put in oven for 4 minutes and leave to rest.
Pan fry foie gras on the hot pan until caramelized on both sides. Deglaze pan with sherry vinegar.
Toast the walnuts in the oven and keep for garnish.
Slice duck breast and serve on the bed of beetroot and beans salad.