Upside down pineapple cake with rooibos, ginger and pepper ice-cream
Made by Tamarin during the ice cream and sorbet flavour challenge in MasterChef Ireland 2012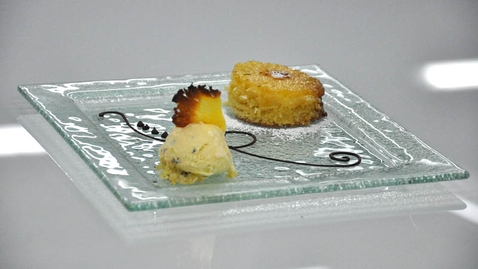 Ingredients
Pineapple cake
100 g sugar
100 g flour
100 g butter
1 tsp baking powder
1 tsp vanilla extract
50 g brown sugar
50 g soft butter
pineapple rings
2 tblsp pineapple juice
Ice-cream
200 ml milk
5 egg yolks
100 g caster sugar
250 ml cream
ginger- fresh and candied
ground pepper corns
rooibos tea
Pineapple crisp
Method
Cake
Beat the sugar and butter together
Add eggs, vanilla mix and juice. Fold in flour. Mix soft butter and brown sugar.
Put this mixture into bottom of cake tin. Layer pineapple on top.
Put cake mix on top and bake for 30-35 minutes at 170°C.
Ice-cream
Heat milk and infuse with tea and ginger. Add to eggs and sugar and back on heat.
Allow to cool and then add cream. Churn.
When ready for freezer put in ginger and pepper.
Freeze.
Pineapple crisp
Cut thin strips of pineapple and sprinkle with icing sugar.
Bake in oven until crisp