Fish and chips, with Lemon Crème Fraiche and Tomato Ketchup
A childhood favourite inspired dish from Terry during MasterChef Ireland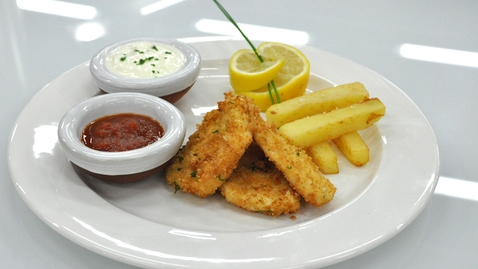 Ingredients
1 side of sole
breadcrumbs
parsley
1 egg
100 g breadcrumbs
2 rooster potatoes
2 plum tomatoes
2 tblsp white wine vinegar
1 tblsp castor sugar
1 tsp tomato puree
1 tsp passata
0.25 onion chopped
creme fraiche
100 ml lemon juice (1/2 lemon)
chives
Method
Mix the créme fraiche with Lemon Juice, pinch of salt. Put in ramekin and top with chopped chives.
Peel and de-seed the tomatoes, chop. Put in saucepan with vinegar and sugar and onion. Cook for 10 minutes. Add tomato puree and passata and cook for 20 minutes. Add more vinegar or salt to taste. Put through a sieve.
Skin the fish and place in flour. Beat the egg and transfer fish to egg mix.
Mix breadcrumbs, salt and chopped parsley. Coat fish in breadcrumb mix.
Peel and chop the potatoes into chips.
Boil in salted water for 5 - 10 minutes.
Dry and put in oil at 140°C for 3 minutes. Remove and dry.
Put in oil at 190°C for 2 minutes until golden.
Remove to kitchen paper and season with salt.
Deep fry the fish for 2 minutes at 180°C.
Stack the chips on plate, arrange the fish and serve with ketchup and crème fraiche. Garnish with lemon and chives.