Hake with herb crumb, potato cake and polenta chips
Served with lemon hake ravioli with tomato and basil zesty salsa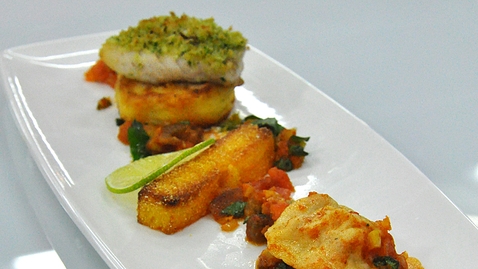 Ingredients
150 g hake
15 g breadcrumbs
10 g parsley
10 g basil
5 g mint
lemon zest
100 g potatoes
1 duck egg yolk
2 tblsp duck fat
3 tomatoes
olive oil
lemon essence (a few drops)
lemon juice (1/2 lemon)
100 g flour
1 hens egg and yolk
0.25 shallot
50 ml cream
1 tblsp tomato purée
50 ml milk
0.50 bulb garlic
1 sprig thyme
0.50 frankfurter
50 g polenta
Method
Drop tomatoes into boiling water for 30 seconds, remove and peel skin off. Remove seeds and dice into small pieces, add to bowl with olive oil, lemon juice, salt. Meanwhile dice ¼ shallot and fry in olive oil until translucent and add tsp tomato puree. Add to tomatoes along with torn basil - taste and adjust seasoning. Add a few drops of lemon essence.
Peel and boil potatoes in salted water until soft and put through ricer. Add ½ yolk from duck egg, add salt and pepper and form small round puck-like cake. Fry in duck fat until slightly brown and keep warm in oven at 110 degrees.
Put 50ml cream, 50ml milk, ½ garlic bulb, sprig of thyme and a piece of smoked frankfurter and bring to simmer, infuse for 10mins - remove solids and add polenta and mix to consistency of mash. Put into parchments and mould into rectangular block, refrigerate for 15mins. With a knife cut chip shapes from block and roll in polenta grain. Shallow fry until slightly golden on all sides and keep warm in oven.
Take 100g flour, 1 egg, 1 egg yolk, salt and mix pasta dough (knead for 5mins) wrap in cling film and rest in fridge for 20mins.
Blitz breadcrumbs, tsp basil, tsp parsley, tsp mint, tsp olive oil and salt. Fry hake finger in oil on both sides, brush one side with whisked egg and dunk in breadcrumb mix - flash under grill.
Roll pasta into thin sheet; add tbsp of minced hake, a pinch of lemon zest, salt, white pepper, a drop of lemon essence. Place in centre of pasta sheet and make ravioli by carefully removing any air and sealing edge with water, put in boiling water 3-4 minutes.
Bring all elements together and plate, adjust seasoning and serve.