Coffee-Rubbed Fillet of Pork
Served with Black Pudding Wonton, Coriander Rice, Sweetcorn Puree and Maple Whiskey Sauce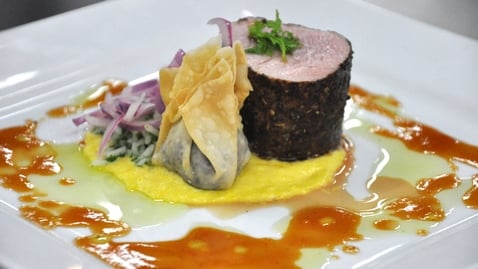 Ingredients
200 g trimmed pork fillet
2 tblsp coffee beans
1 tsp coriander seeds
1 tsp cumin seeds
1 tsp smoked paprika
1 tsp cayenne
1 tsp mustard seeds
1 tsp garlic powder
0.50 cup basmati rice
100 g tinned sweetcorn
100 g butter
75 ml cream
50 ml maple syrup
25 ml whiskey
50 ml tomato ketchup
5 ml worcester sauce
5 ml tabasco
25 ml soy sauce
25 g black pudding
100 ml olive oil
1 wonton wrapper
0.50 red onion
2 radishes
juice of ½ lime
bunch of fresh coriander
1 l sunflower oil
salt & pepper
Method
For the pork
To marinate the pork, heat the large frying pan then add the cumin seeds, mustard seeds, coriander seeds and toast for 2-3 mins. When complete, add them to the coffee grinder along with coffee beans, remaining dry spices, salt, pepper and blend to a fine powder.
Add the mixture to the 1l mixing bowl along with the pork fillet and mix until evenly coated. Wrap tightly in cling film and place in oven set at 65C for a minimum of 40 minutes.'
For the coriander oil
To make the coriander oil, add ¾ of the fresh coriander to the food processor, along with 70ml of oil and blend. Pass the mixture through a sieve into the 500ml mixing bowl and set aside. Keep the remaining contents in the sieve for later use in the rice.
Coriander rice
For the coriander rice, boil water in the kettle and, meanwhile, rinse the rice in cold water 2-3 times to remove excess starch. Add the rice to the 18cm saucepan along with enough boiled water to cover and a pinch of salt. Cook for 7-10 mins until rice is soft then remove and drain through the colander. Put the drained rice back in the pan, along with the contents of the sieve and set aside.
For the sweetcorn purée
For the sweetcorn puree, place tin of sweetcorn in 14cm pan along with 50g of butter and the cream. Bring to the boil and leave for 2-3 mins for the sweetcorn to soften. Empty the contents into the food processor and blend until smooth. Place the contents back into the pan and set aside.
For the black pudding wonton
For the black pudding wonton, heat the oil in the deep fat fryer to 190°C. Roll the black pudding into a ball, place in a wonton wrapper, brush the sides with water and seal.
Place in the hot oil and cook for 4-5mins or until golden brown. Remove the wonton from the oil, place on paper towel to drain excess oil and season with salt.
For the sauce, place the maple syrup, whiskey, ketchup, soy sauce, tobacco and worcester into the small pan and bring to a boil over 4-5mins to thicken, then turn down the heat to keep warm.
For the pork, heat some oil in the large frying pan and add the marinated meat. Sear the meat on all sides for approx 30 secs until brown, then add the butter and glaze the pork for a further 1 min.' The internal temperature should be about 65c for a pink centre
Finishing and plating up
Take the pork from the pan and let it rest until ready to serve. Remove the sauce from the hob and set aside. Add the rice and sweetcorn puree back to the hobs and warm through. Meanwhile chop the onion, remaining coriander, radishes and mix with the juice of ½ lime.
To serve, spoon some sweetcorn puree to the centre of the plate and make a circle with the back of the spoon. Place the rice, the pork and the wonton on the puree. Add the garnish to the top and spoon the sauce around the plate along with the coriander oil.